by Laura MacLeod, LMSW, creator of From The Inside Out Project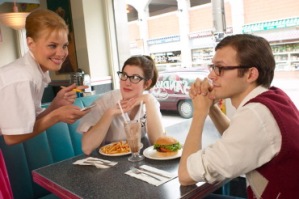 Summer is almost here and beach weather, baseball and family outings await. After a long hard winter, we're all looking forward to taking time off from work to dine out, sightsee, shop and celebrate holidays and special occasions.
You will be a customer in restaurants, hotels, stores, baseball parks and tourist attractions. If you want to enjoy yourself and have a great day, you'll need the help of the staff serving and assisting you at all these places. These hourly employees can make or break your experience, so you'll want to enlist their support.
Best way to ensure excellent service? Be a great customer. Here's how:
1. Smile and Stay Calm.
Employees want to be approached calmly and with a smile. You are welcoming and kind so the interaction will probably go smoothly. This is especially important when the restaurant, hotel or store is busy and employees are stressed. They appreciate and will reward your positive attitude and patience. The customer who says: "When you get a minute, could I please.. " ALWAYS gets quick and efficient help.
2. Be Direct and Clear.
Your requests should be direct and clear and always accompanied by 'please' and 'thank you'. "I'd like the burger medium rare with a small order of fries please. Thanks" NOT " I think I want a burger, but I had meat yesterday, so I'm not sure and I worry about too much fat. Thinking about the chicken salad, but don't want the onions and not sure a cold dish will be filling enough…" If you have questions, focus and be specific: "What vegetarian dishes do you have?" NOT " What's good?"
3. TIP.
Need I explain this? Check your guidebook if you're a tourist to determine where and how much to tip. Waiters, bussers, hosts, cab drivers, bartenders and many others count on tips and pay special attention to those who tip well. They know who you are and pass the info on to co workers: "Take care of the guy with the light beer. He's a great tipper." 
4. Manage your Children.
Summer is family time and you may be traveling with your children to restaurants, hotels and tourist attractions. Please keep in mind that children should follow your lead and behave as you do. Say, 'please' and 'thank you' and stay seated and calm. It is both annoying and dangerous when children become unruly. Toddlers crawling on restaurant floors or teens wandering into the kitchen or employee area can result in unneeded stress for staff and risk of injury to your child. You'll see employees tending to your special needs much more quickly and efficiently if you are in charge, not your children.
5. Complaints? Tell the employee.
When something goes wrong, employees need to be told as soon as possible. Problems and mistakes can usually be rectified quickly and efficiently if they are addressed in a timely fashion. The way you explain the problem is also crucial. We all make mistakes, so please keep that in mind when speaking to the employee. "Excuse me, it's been a while since I ordered. Could you check on the order, please?" NOT
"Where's my food? Service here is terrible. Go get your manager." Your order will arrive (or not) based on how you speak to your server.
Next time you and your family go out, follow these guidelines and consider service employees. You'll have a great summer by being a great customer!
Laura MacLeod, LMSW has a background in social work and 2 decades of experience as a union worker. She created From The Inside Out Project with all levels of employment in mind to assist in maintaining a harmonious workplace. An adjunct professor in graduate studies at the Hunter College Silberman School of Social Work, she leads training sessions for social work professionals at The Coalition for Behavioral Health and Institute for Community Living in New York City and speaks on conflict resolution, problem solving, and listening skills at conferences across the country.