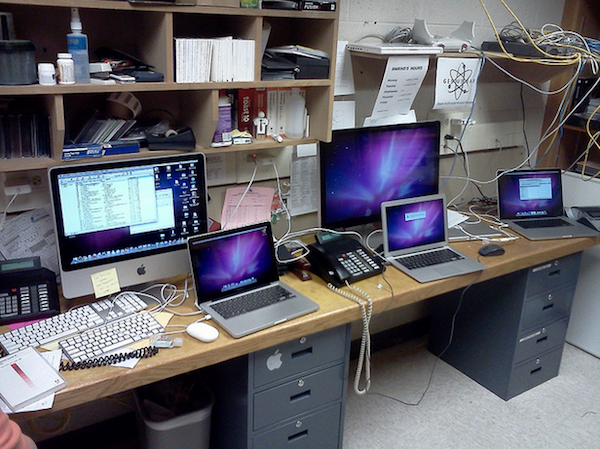 [Image credit: John Marino]
It's almost impossible to do business today without a computer system in place. You might be a freelancer working on their laptop or a small company with a handful of employees. You need computers and related technology to communicate and keep up with the day-to-day running of your enterprise. Even if your business's main purpose is manufacture, you won't be able to operate well without the right software to keep track of your business processes. But setting up your first IT system and building on it can be confusing if you don't know what you need.
If you need to start setting up computer for your office, even if it's just your home office, use this guide to get started:
Your Business Needs.
First you need to think about what your company requires in order to function every day. You can start working this out by making a list of everything that you need your computers to do. Some of these tasks will be things that you already do, from using word processing software to keeping up with your emails. And some of them might be things that you can't do until you can access the technology. If you have staff or are about to hire staff, you'll need to think about what their daily routines will be like too, and how you'll need to work with each other. Do you need to set up a network so you can share and collaborate, for example? You can also try to anticipate your future needs, and perhaps research some of the newest business practices to see if they're options for you.
Think About Your Budget.
Before you start setting up, you'll need to set yourself a budget. Most startups don't need anything too sophisticated to begin with, although you may want to update your equipment in the future. However, you need to consider what sort of software it needs to be capable of running, so check the requirements for heavy-duty programs. Research different options before you set a budget so that you can come up with a realistic figure.
Safety and Security.
It's important to maintain security, backup your information and have disaster recovery plans in place. Some businesses choose to use IT outsourcing to take the task out of their hands and give them peace of mind. As well as having external storage to backup your data, you should have anti-virus protection too.
Connectivity.
We live in a connected world, so you need to think about how and why you need your computers and other devices to connect to others. You might set up a network between several office computers, as well as a printer and scanner, either wired or wireless. An internet connection is essential too, so you should determine how you're going to set it up and how everything will connect.
Every business has different IT requirements, so it's essential that you don't under- or over-equip yourself. Make sure you stick to a budget and remember that you can update your systems as you grow.