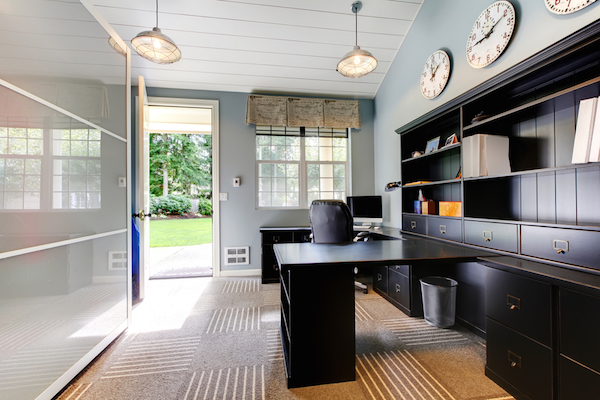 By Jennifer Tuohy
Whether you're just starting out with your start-up or are deep into a work-from-home career, a home office is your hub. It's your command center. In short, it's where the magic happens.
Therefore, it follows that a lot of careful thought and planning should be put into its creation; this isn't just a place where you sit once a month to pay your bills. When I moved into my new home, I had an opportunity to build my home office from scratch, from the sheetrock to the lighting. My experience taught me a few valuable lessons about how best to design a workspace in a home to be productive and efficient, while also unobtrusive to the overall purpose of a home.
If you are designing your own home office, consider incorporating some of the steps I took to help you toward a happier, healthier and more productive space:
Step 1: Find the Perfect Position for Your Desk.
According to feng shui, the positioning of your desk is paramount, as proper positioning will generate power. Whether you are convinced by feng shui or not, making sure you can see the doorway and look out a window is important for both feeling secure in your surroundings and having a nice view for when you need some inspiration. I placed my desk between a door and a window, facing into a corner. A corner desk is a good solution if you have a lot of paperwork and materials you need to reference, as it allows you to keep a clear space in front of you for focus, and to use flat surfaces to your left and right for spreading out when you need to.
Step 2: Plan Your Outlets.
If you're designing your home office from scratch, a good starting point is to wire three electrical outlets in strategic locations: one at desk height for charging items on the desk and two on either side of the desk, so there's no need for cables crossing each other behind the desk (you want duplex rather than quad outlets because you are going to want to plug your electronic equipment into a surge protector).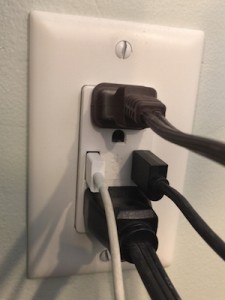 Being able to plan the positioning of outlets is something of a luxury, but even if you aren't building from scratch, investing in professional installation of outlets in optimal locations is a worthwhile expense. If that isn't possible-switching out your current outlets with combination USB charging outlets will help (about $15 more than regular ones).
An outlet with two standard plugs and two USB ports (pictured left) allows you to have up to 4 devices plugged in with no need for an extension device.
Don't forget about telephone and Ethernet lines when planning your electrics. Even if you have good Wi-Fi in your home, you may want to have an Ethernet connection for your home office. It's not only an excellent back-up if your Wi-Fi router goes down, but if you conference call frequently over video, a hard connection will produce better quality at the other end than a Wi-Fi signal will.
Step 3: Plan For Storage.
One of the most common mistakes people make when designing a home office space is giving themselves inadequate storage. We all have visions of the picture perfect, uncluttered desk with just an iMac and a keyboard, and then forget to leave anywhere to actually put anything. There is an easy fix however-bookshelves. A bookshelf is crucial to eliminating clutter; having a place for everything and leaving your desk clear is the key to being productive in your home office. A simple bookshelf will take care of most of your storage needs, and it can also be an attractive feature for your home office.
If you are short on space, consider installing shelving above your desk, or incorporating a desk hutch to keep items within arm's reach.
Step 4: Prioritize Ergonomics.
One you have your desk in place, the next step is to optimize the ergonomics of your workstation. This Lifehacker article goes into incredible detail of correct ergonomics, but the basic principles include: position your monitor at an appropriate height (higher than writing/typing height), adjust your chair to optimize comfort, and put everything at about arm's length. The biggest factor of ergonomics is your chair, and you can't really plan the desk ergonomics until you have your chair (unless you are planning on a standing desk).
Step 5: Plan Your Lighting.
Natural lighting is optimal, so try to use as much of it as possible by situating your desk as close as you can to a window. Good lighting is crucial to productivity and mood. Make sure to incorporate both overhead lighting above your desk, such as recessed cans or track lighting, and desk-based task lighting, in the form of a lamp, in your office space. Overhead lighting should not be directly above your screen as this will create glare, and make sure all the lighting is dimmable. For a more detailed dive into lighting planning, read my article "6 Steps to Lighting Your Way to Success".
Bonus Tip: Don't Rule Out A Filing Cabinet.
It may seem like a relic from a bygone era, and you may have committed to going paperless in this digital age, but a filing cabinet really is still an essential tool in any home office. You just can't have enough storage, and if you are going to avoid precarious piles of paper littered all over your desk, then a filing cabinet, or just a filing drawer, is a must. If you do digitize most of your paper then you probably don't need to plan for a five-tier cabinet, but incorporating one or two filing drawers into your home office design is a worthwhile investment. If you are tight on space, a combination bookshelf and filing cabinet is an ideal solution to your storage needs.
Have you had experience designing your home office? Do you have some tips to share? Let us know in the comments how you have implemented productivity features into your design.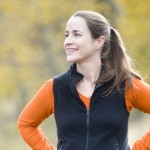 Jennifer Tuohy writes about home offices and productivity for The Home Depot. Jennifer's work-at-home storage tips for home workplaces are geared toward keeping you organized for a more efficient use of your time. To view some shelving and bookcase storage options available at Home Depot online, click here.