by Jennifer Sultzaberger, founder of #vidit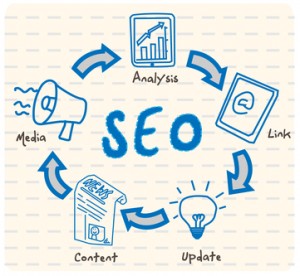 If you want to be found online today, you need to be thinking in terms of online visibility not traditional Search Engine Optimization (SEO). In the past, the focus was on getting a high ranking on page one of Google as it was the most popular destination for website surfers and a high ranking on Google would have a huge effect on your business. Although it is still important to be positioned well on a search engine page, the Internet has changed dramatically.
SEO is no longer the only important component to online success. Many people are not using search results they are using social networks to see what topics are trending and information about what they are looking for. Social media has taken over how people search.
Google, YouTube and Facebook are the social networks most people use to see search results. Therefore, if a business is only focused on SEO you are missing the boat to online success. Social networks have become a major factor in how SEO works within the search engines. Online visibility now encompasses even more than SEO and search engine result listings. It's all about your social interaction, online reputation, mobile search and videos engagement.
In 2013, more than 45 percent of user searching was done through mobile devices. By 2015 more than 50 percent of Google pay per click ad campaigns will be the result of a mobile search. This means if your website is not mobile friendly you are missing out on online visibility. You website needs to have a responsive design. Websites without a responsive design can be hard to navigate and will lose visitor attention. Keep in mind that visitors expect instant gratification.
Currently more than 80 percent of websites in the United States are not using responsive design websites (RDW). Google says that visitors do not scroll, they want instant gratification. Based on mobile interaction of Linguistic User Interface (LUI) and Graphical User Interface (GUI) we know, Google with android technology, and Apple with iPhones are trying to move surfers away from scrolling to receive instant gratification with voice recognition, graphics and video technology.
If you want to turn visitors of your website into buyers you need to make sure your website has the best possible responsive design. Overall you need to have all of the following in order to succeed online today:
– Up to date Meta Title & Description so that your website is main indexed and part of the search engines results page (SERP).
Responsive design for mobile viewers that is easily navigated by touch not scrolling.
– Social media engagement, because this is where your customers are reading reviews and checking you out.
You need to be sure to gain authority amongst your tribe so you become an expert in your industry.
– Use your video message front and center on your website, above the fold to capture audience's attention immediately upon arrival.
– Constantly update your text and content to be fresh and informative. Use your text for SEO to create keyword rich phrases of content that your audience uses to search and that you want to be found for by surfers.
These items are only effective when used collaboratively. They are no longer used independent of one another. SEO strategist that claim to know SEO are definitely in need of a whole new set of skills to understand this new online visibility strategy. Using traditional SEO coupled with a backlink strategy will actually damage your website's online visibility. Proceed with caution and do not buy into "all in one" packages or providers of these services as they are a thing of the past and a poor monetary investment for online visibility.
Jennifer Sultzaberger is the founder of #vidit, which employs patient pending technology that combines Search Engine Optimization (SEO), pay-per-click (PPC) and social media to help small businesses design their marketing strategies. She has over 10 years of experience in Digital Marketing and 15 years in traditional marketing.