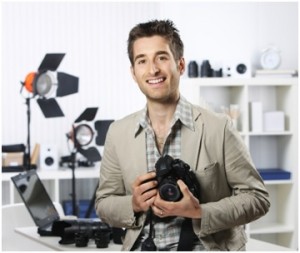 According the U.S. Bureau of Labor Statistics, 60 percent of American photographers are self-employed freelancers running their own businesses. The Bureau of Labor Statistics predicts that this number will grow in coming years, as salaried positions in the field dry up and more companies turn to freelance photographers to meet their needs.
If you're hoping to build a career in professional photography, starting a photography business might be for you. Freelance photographers have the opportunity to run their own businesses, working part time or on a flexible schedule.
While starting a photography business might sound intimidating, it doesn't have to be. You just need to draw up a business plan, choose a business structure, file the paperwork to make it official and make sure you pay your taxes on time.
Make a Business Plan.
Your business plan will help you decide what your goals are, who your market is and what your operation costs will be. You'll need to start by deciding what kinds of clients you'd like to cater to. Who is your ideal client? Ask yourself:
What type of person you want to market to
Where he or she lives
How much money he or she makes or is looking to spend
What his or her interests are
What his or her tastes are
For example, you may want to shoot luxury weddings, or perhaps you're more interested in creating budget-friendly family photos. Once you know who your ideal client is, you're one step closer to creating a workable business plan.
Now, you can move forward with describing what your business does and how it's different from competitors in the same industry. You'll need to specify:
Your business's products and services
Why your clients need your services
The structure of your business
Your marketing strategy
Your anticipated revenue and marketing costs
Decide how much you need to cover overhead and how much you want to earn. Then, figure out how many shoots you can do in a week — usually one or two portrait sessions and one wedding session — and how much you need to charge per shoot in order to cover your overhead and pay yourself a salary.
Choose a Business Structure.
Your business structure will determine what paperwork you need to file to start your business and pay taxes, as well as your personal level of liability. Choose from one of these three business structures:
Sole proprietor. Though easiest in terms of tax filing and business licensing, you'll also be personally liable should anyone sue you.
LLC. This slightly more complex business structure offers you more personal legal protection, and may not complicate your taxes much if you're the only person involved.
C-Corps and S-Corps. You probably don't need to become a corporation to run a small photography business, but it might be advantageous depending on your situation.
Your accountant can help you decide which business structure will best meet your needs and help you file any state and federal paperwork that may be necessary. If you're a sole proprietor, your business taxes will go on your personal income tax return. Otherwise, you'll need to file taxes separately. Open a separate business bank account and credit card account to keep business and personal spending delineated. You'll also need to make quarterly tax payments, so you may want to set aside a certain portion of each payment in a separate bank account to make these payments.
Choose a Business Name.
Choose a business name that's unique and easy to remember, but that hasn't been trademarked by anyone else yet. It's a good idea to protect your name with a trademark. Buy your domain name, and set up social media accounts on all the major sites as soon as you have chosen your business name. You don't need to do anything with these accounts just yet, but you should establish them as soon as possible.
Get Equipped.
The final step in establishing your photography business is getting your equipment. You'll need cameras and camera accessories, editing software, studio equipment, computer equipment and more. Make sure you have backup storage both on and offsite. Establish relationships with professional printing labs and album creation sites. Establish a web present and get business cards, packaging materials and rack cards.
Now you're ready to start working with your first photography clients! Treat each client like they're your most important client, no matter how much or how little they spend, and you'll soon find your small photography business thriving.