by Alex Miller, Co-founder of PosiRank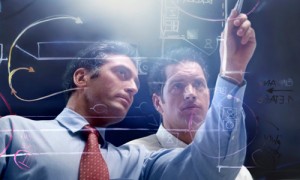 Marketers hope to disseminate information and inspire sales.  However, marketing in the 21st century is different.   CEOs of ago never dreamed today's marketers could solve problems with the push of a button.
Automation helps with mass emails, social media replies, and on-page content.  But what do you need to know before you start the automation train in motion? 
What Is Marketing Automation?
Digital platforms and tools help today's marketers move faster, working more efficiently.  Think of automation as the 'industrial revolution' of marketing; marketers use principles of assembly lines and mass production to scale projects and ad endeavors.
For example, IFTTT (if this then that) allows marketers to create 'recipes,' combining platforms to influence a general or specific campaign.  If an action takes place on one platform (an article is shared), the recipe responds with appropriate reply (a thank you, an offer, etc).
Why You Need It.
Automation is essential to B2B (business to business) marketing.  Considering the breadth of online platforms and opportunity (search, social media, video, content marketing, etc), it's difficult for advertisers to keep up (and keep track) with digital progress.
Moreover, those tracking online progress (search rank, social engagement, website visits coming from other channels), are overloaded with duties, multitasking and allocating time.  The increased difficulty and added opportunity is ironic and problematic for business-to-business companies as well as B2C (business to consumer) advertisers.
Make Automation Customized.
A number of brands benefit from incorporating automated processes (emailing the latest blog post to a targeted market, or offering coupons to those who click on a link), yet automation does not guarantee efficiency or beneficial use of resources.
Automation requires initial and continued address and applied strategy.  Otherwise, a number of internal processes results in lower sales and poorer engagement.  Businesses using automated ask internal questions like:
– What marketing channels produce the best return on investment?
– What channels deliver poor and lower-than-estimated results?
– Do we have the resources (and experience) to 'master' a marketing channel or can we benefit through third-party assistance?
– Can we budget the resources needed to optimize efforts?
In addition, larger corporations require ongoing management of automated tools and need to prove a return on investment to get approval from superiors.  Automation is a not a catchall solution, but necessitates specific application.
Templates.
Automation tools generate blueprints or templates that guide and expedite digital processes, like adding meta tags to pages; thousands of tags can be addressed via a template that's later provided to writers who then 'tweak' content to produce unique tags.
Likewise, aligning email templates with personas helps save time and advertisers individually tailor each email, knowing specific information about good and service preferences.
Internal Linking.
Google uses a number of factors to provide consumers with appropriate results.  Internal linking helps improve search engine optimization as well as user experience.  Using an automated toolset (like those provided by Moz, quantifying individual pages) teams may reproduce similar content and strategize internal linking efforts.
Link Architecture.
Search engines use anchor text to identify and weigh the authority of web pages.  Automated tools identify popular search terms and online anchor texts, so marketing teams can arrange content and on-page headings and anchor text.
On-page factors guide search engines and online consumers.  Using automation for link architecture improves search engine optimization and click-through rates.  Defining an architecture helps engineers quickly generate and upload pages without outside assistance. Use PosiRank for SEO, enabling in-house resources to manage more campaigns without sacrificing quality of reporting and analysis.
Blackhat SEO.
Automation is sometimes associated with 'spam' or blackhat SEO efforts.  Varying in definition, blackhat methods dupe consumers or transgress Google guidelines.  It's to be understood that any successful (and ethical) online marketer can use automation, yet automated tools are often a blackhat's favorite, saving a lot of time and allowing them to reach goals a lot sooner than expected and often ahead of competitors.
Use automated tools with discretion, and read search engine guideline literature related to blackhat SEO and automation.
Personalization.
Somewhat conflicting, automation helps with personalization.  For example, HubSpot aids with email marketing as well as brand content; you can personalize on-page content to each visitor.
Digital marketers target consumers by measuring previous behavior or theorizing about brand 'personas.'  Once personas are identified, automated processes guide consumers through sales cycles, accounting for time and preferences.  Combined with a customer management system, automation scales efforts without losing the charm of personalizing approach.
There's no question that automated processes accelerate individual online campaigns and help companies better define ad efforts.  However, it's not a catchall solution.  Ask questions, consider outside assistance, and read more information related to automation to make a sound decision for your business.
For the past several years, Alex has been on the top of all-things SEO. His clients have included some of the most successful brands in the health & fitness industry, and he's worked side by side with the "who's who" of the business since 2007.
Alex Miller, Co-founder of PosiRank, loves to talk business. He has personally created and promoted 400+ of his own websites in some of the most competitive markets in the world. Having graduated from university in 2007 Alex has been on top of all things SEO for the past several years. His clients have included some of the most successful brands in the health & fitness industry, and he's worked side by side with the "who's who" of the business.