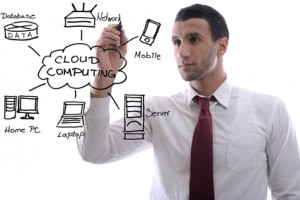 There is no denying the ever-growing popularity of cloud-based services. Leaving memory sticks lingering in desk drawers, cloud computing makes it incredibly easy for users to store, share and access a wealth of important files, from documents to videos.
With many entrepreneurs realising how effective cloud systems can be, workplaces are beginning to incorporate this technology as standard. However, along with a raft of benefits, there are some drawbacks too. In this post, we'll be providing a balanced overview of the pros and cons of cloud-based services, so you can determine whether it's right for your business.
One of the main attractions of cloud computing is the flexibility it offers. Forgetting the cubicle-style offices and clumpy desktop PCs of time gone by, cloud storage services allow for a more malleable working environment.
Cloud services allow users to access data remotely, so they can work at home, in the office or on the move. Instead of having a strict seating arrangement, the technology means offices can be more casual places to work. Rather, users can move around the office free from the restrictions of a fixed PC, working on a range of portable devices.
Storing files on a cloud-based server means that employees can spend less time sending emails with attachments to one another. Back in 2013, the McKinsey Global Institute issued a report that showed employees spent an average of 28 per cent of their workweek responding to emails. In an average 40 hour week, this could mean that employees are spending a huge 11.2 hours on emails alone.
As you'll agree, this figure is bad news for productivity levels. Introducing cloud computing eliminates the need for sending files back and forth between staff members, helping to significantly reduce the amount of time needlessly wasted.
With so many benefits, you may be wondering what possible drawbacks they could be. Security implications are the main stumbling block that arises for many: if a large number of staff members can access the cloud remotely, what is stopping unauthorised personnel from doing the same?
However, there are precautions that users can take to prevent this from occurring. Choosing reputable cloud-based management software, like that offered by United Carlton, is recommended, while regularly changing passwords will make it trickier for hackers to infiltrate.
As all technology experiences glitches, another fear is what happens if the chosen cloud platform becomes unavailable? Will productivity in the workplace grind to a halt as users are unable to access the necessary files? This is a real concern for many, but the risk is no greater than that posed to in-house servers and databases. Technical glitches do occur, but with the right IT support in place, issues are easily rectified and normal service is quickly resumed.
Are you a fan of cloud-based services? How do you use it in your business? Let us know in the comments below.