by Frances Kweller, CEO and founder of Kweller Prep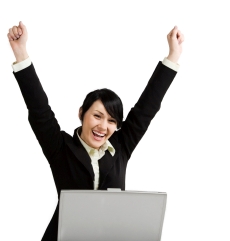 As scary and intimidating as starting a business can be, there are many reasons why women want to take that leap. Whether it's wanting the freedom to work for themselves, the flexibility to work from home, or wanting to make a greater impact in their life, more and more women are starting their own businesses.
Before they take that leap, however, there are six important things all female business entrepreneurs must know before they start that startup:
1. Execute Immediately.
Most women suffer from "analysis paralysis", which means they analyze the situation over and over again and then never take action.  Instead of moving forward with their ideas, they tend to consult and talk it over with friends and family, many of whom don't even own businesses or have any experience at all. My advice is to not spend time over-processing everything, otherwise, you'll focus on the risks instead of the rewards.  Take action immediately before you get cold feet. Once 10% of your vision is alive you will start to realize 20% and 30% of your vision.
2. Don't Let the Math Scare You.
Most women are afraid of the numbers.  They don't want to look at a portfolio or profit-and-loss statement because they don't understand the math.  Take a class at a community college, take advantage of free training workshops at organizations like the Small Business Administration, spend quality time with your accountant, CPA and banker and understand how business loans work because you will need this information in the future.
3. Be Direct About What You Want.
Practice makes perfect! Women need to practice a 1-3 minute pitch. Don't be soft and get to the point to get what you want.  Women tend to go in circles and are afraid of saying what they want.  Being able to say what you want and what you are looking for is critical to your success.
4. Trust Your Gut.
Many people will tell you that you cannot do something or that your idea is a bad one.  If your instincts are telling you that they're wrong and you're right, trust your instincts.  When they say "no," move on from it and beware of all the free advice. Listen to your inner voice and execute on your idea immediately.
5. Stay Away from Business Partners.
Although it's very tempting, particularly in your first business venture, a business partner is not only not necessary but an unwelcome headache.  Your first venture comes with enormous learning curves and mistakes you need to make alone. You need to listen to your instincts and have clarity of mind to do so, unclouded by another party in the way.
6. Get Support.
Join a women's group, while reading up on building a business and about other women entrepreneurs to garner the support you need while building your business.  Surrounding yourself with other female entrepreneurs will only help you on your journey in discovery and with a solid foundation while building your own leadership skills too.
Frances Kweller is an education and testing standards expert and the CEO and founder of Kweller Prep, a specialized high school and college preparatory center that offers customized tutoring, test preparation, mentorship, support and guidance for students predominately in grades 6-12.  Kweller started as a tutor for ten years before opening her own office. She is both a practicing attorney and lifelong educator.