by Francois Bondiguel, Online Marketing Manager at VendHQ.com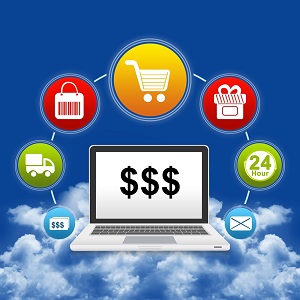 It's like a war zone out there. The economy. The job market. The vendors. The suppliers. Even when you do get a small handful of semi-loyal repeats, you could lose them in a heartbeat if someone else comes by with a better offer. Today, you need ways to keep customers coming in the door.
Here's 10 of them:
1. Use Retargeting.
Using retargeting is a double-edged sword, so use it wisely. What is retargeting? It's the ability to "stalk" your potential customers all over the web. Let's say your prospect visits a website, or surfs the net, and sees one of your ads.
He doesn't buy from you immediately. Instead, he goes on about his business and you end up getting pinged in your Paypal account 3 weeks later. What just happened? The customer saw your ad on a totally unrelated web search or a website. This is remarketing. It's sort of an "ad boomerang" that puts you in front of your prospects days, weeks, and even months after they first see your ad.
Google's Adwords (or some other ad platform) is able to track prospects using cookies. That's the magic behind this devilishly ingenious marketing strategy. But, be careful with it. It can also annoy customers if they catch on that you're following them all over the web. You'll come off as being creepy instead of being in the right place at the right time.
2. Incentivize Customer Loyalty.
Customer loyalty programs have been around forever. What hasn't been around forever are automated loyalty programs. Automated loyalty programs can be constructed using new cloud-based POS systems that allow for individual customer profiles and that track sales and inventory for your business.
When a customer buys something, keep tabs on what they buy. Then, offer a special promotion just for them if they come back and repurchase the same item. This works well when you sell commodity products that need to be restocked. It could be anything from paper products to soap to food items.
By individualizing your sales and marketing like this, you become much more relevant to your customers. They're not just a number anymore. You're addressing their individual needs.
3. Do Something They Don't Expect.
When you surprise your customers by under-promising and over-delivering, you delight them. They come back for more. They tell their friends. For example, let's say you run a online store that sells cell phone accessories. How do you "do the unexpected?"
Well, you could include free cleaning equipment with every purchase, but that's not really exceptional. What would be exceptional is to send them their order, then send them a replacement case "just in case" with a little note that reads something like "we know that wild parties, a day at the beach, and small children are sometimes the cause of damaged or missing phone cases. Here's one 'on us' just so you don't have to wait for a replacement in the mail when the unexpected happens."
Do you think people would order from you again if you did this? You bet they would.
4. Develop A New Payment Experience.
These days, customers are using more than just Mastercard and Visa. They are paying using Paypal, Google Wallet, Amazon, and other third-party payment processors. If you don't have a tablet based POS like the Vend iPad POS system for your retail store (or even online store), you're not going to be able to take these payments.
It's not like most people don't have a credit or debit card these days. But, it's the fact that you have options that will stick in the customer's mind. The next time they want to buy a product or service you happen to sell, they're going to remember your flexibility. Your customers are more likely to think along the lines of, "If they're that forward-thinking, maybe they have other benefits I haven't discovered yet."
5. Maintain A Meaningful Email Marketing Plan.
Ever get sales pitches from a company for products you've already purchased? It's like they're behind the 8-ball on their marketing. Don't do this to your customers. It's annoying. Instead, pony up the dough for programs like Infusionsoft that can offer dynamic sales funnels triggered by user actions like making a purchase, clicking a link in an email, or even opening and reading an email. That way, when a customer buys something from you, they can be automatically moved to another email list so they don't get the same sales pitch twice.
6. "Wow" Your Customers With Your Packaging.
You can't control how your product is delivered, but you can control the packaging. Companies like Apple and Amazon have absolutely mastered packaging. If you've ever purchased something from them, you know. The packaging is almost as pretty as the actual product inside. It's like they hired a team of engineers to design the packaging.
7. Use One-Click Buying Schemes.
Take a cue from Amazon.com and other companies with "one-click" buying schemes. Allow users to enter all of their payment and shipping details once. That way, when they return, all they have to do is hit "one-click pay" and they're on their way. No wasting time checking out.
8. Don't Stonewall Customers With Your PBX or Virtual Phone System.
The phone system in most companies is atrocious. You get stuck in a maze of automated voices that are almost never helpful. Don't do this to your customers. Either have a real live person answer the phone on the second ring or do what companies like Vitamix do – give customers a truncated automated system that routes them to a real human being in less than a minute.
9. Have Amazing Customer Service.
Zappos is famous for its amazing customer service. Really. The company is primarily a service company. It's shoe and clothing business is almost almost an afterthought. Almost. They've become famous for overnighting a groom's shoes for free because he showed up shoeless for his own wedding, sending flowers to customers, and even shopping competitors when the company ran out of stock so that the customer could get what she wanted.
Few companies will go to these lengths to please customers. You have to.
10. Deliver 100 Times The Quality Of Your Competitors.
When Google Fiber was developed, no one had even thought of offering gigabit Internet speeds. Even today, most telecommunications companies are sitting on their laurels – big mistake. Google is offering Internet speeds that are 100 times faster than any competitor. If you want to capture and dominate a niche, do what Google does. Give your customers 100 times the quality of everyone else.
Francois Bondiguel is from Vend, a point-of-sale, inventory, and customer loyalty software that helps over 10,000 retailers manage and grow their business. Connect with Francois on Google+ and LinkedIn.