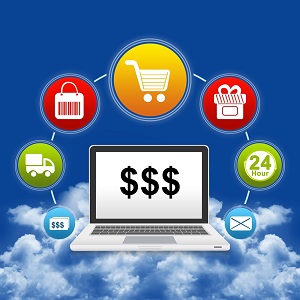 You have products that you know people will want to use and enjoy, but you are not sure how to go about selling them online. The options are endless. If you have your own website, you can sell products through the site, but you will need to find a way to direct people to it. You can do that through assorted marketing tactics. Those who want to learn how to sell a product online should first find out how to market their website. Marketing strategies may include lots of involvement of social media.
If you don't have a website, you might want to consider setting one up as soon as you can. With a website, you can end up making lots of online sales. Otherwise, it is difficult to sell to people online without some type of platform to display your products and prices.
How Do I Make a Website for My Products?
When you are unfamiliar with hosting, domains, and HTML codes, your best bet is to choose a platform that handles all three of those things. E-commerce platforms do just that, providing the hosting that you need and supplying pre-made designs and layouts that you can use to get your website started.
The platform makes uploading your products on the system easier than doing it on your own, and you can receive unlimited support. Having support is good because you never know when you might need help with something or have questions about getting things ready. Most importantly, the worry and stress of how you will accept payments is no longer an issue either. These platforms offer payment processing tools where you decide what you will and won't accept from your customers when they want to pay for the products.
Why Is Social Media Used for Marketing Purposes?
While the original intention of social media may have been to connect people from all across the country and in different parts of the world, allowing them to share statuses about their life and post photographs, it is also a useful marketing tools because so many people use social media. Each month, people across the country are spending 700 billion minutes on Facebook alone, and that does not even include the other social media sites, such as Twitter and Pinterest. There are also 490 million different people who log into YouTube and use it every month. Can you imagine uploading videos with cool details about your products and how they work? The exposure you could get on those videos is undeniable. Accurate figures like these give the exact answer about why it is so crucial to market on these websites. There are simply so many people using them, and it doesn't cost you anything to get started. If you want to reach a specific audience, it is even easier to find those people who fit the demographics on the social media sites.
What Else Can I Use to Make More Sales?
Along with strategic social media marketing, you might want to consider running an eBay store. You can still run your personal website. There are plenty of website owners who also sell their products on eBay to maximize the exposure of their products. There are millions of people worldwide who visit eBay daily. If you are willing to accept PayPal payments and ship to all kinds of people, it could open up the doors for your business. You could double or even triple your sales because you have another marketplace to post your products up for sale.
Offer Affiliate Marketing Opportunities for Customers.
If you have some loyal customers, why not give them a chance to become affiliates? As affiliates, customers will receive a commission each time they refer someone to your business who ends up making a purchase. You can decide whether that commission is a flat rate or if it depends on the total cost of the transactions. No matter what choice you make, you can benefit from having someone else doing some marketing for your business in their spare time while they also get to benefit from it and earn a bit of extra cash.
Provide Some Deals, Coupons, and Freebies.
You don't have to have giveaways all the time, but when you do, it can help you sell more products in the future. If you are offering new customers a special coupon on a discounted transaction or free shipping, they might feel like they should use it before it expires. They might go to your website and decide to buy something to make use of that offer or deal that you have given them. You should offer these options to both new and loyal customers as much as you can afford to do so. It may help you with selling even more products. With these options in mind, you can reach and even surpass the goals you have for the business.