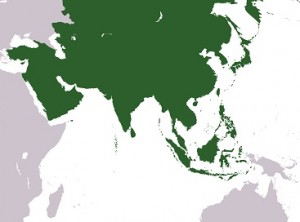 As commercial growth in Asia continues unabated, there's never been a better time to start a small business on the world's most populous continent. With Asian firms weathering the global financial crisis resiliently, it's left Western organisations keen to dip a tentative toe in foreign waters.
However, if you're eager to follow suit and start a small business on Asian soil, there are several factors you must consider before making your move:
Ensure Your Product or Service Has a Place.
It may sound obvious, but before investing valuable time and money opening in Asia, it's vital to ensure the product you sell or the service you offer has a place on the Asian market. After all, your business is unlikely to survive long if customers are hard to come by, so conduct comprehensive research into market trends to confirm your company really does have a way in.
It's also wise to be aware of any adaptations your product or service may need to fit into an Asian market, as legal standards can vary from country to country.
Choose Your Country.
As a foreigner, some parts of Asia are more conducive to doing business than others – which is why your research in this area should go hand in hand with the first point.
It goes without saying that the industry you're involved in will play a part in the decision making process, with government regulations and inspection guidelines other factors to consider. Some areas won't allow you to operate unless you have a business partner who's a national of that country, with 51 per cent of company shares in Thailand expected to be in Thai hands, for example.
Find Local Employees.
Setting up in a new country typically means you're unfamiliar with the lay of the land – and this is most evident when choosing employees to staff your fledgling venture.
In cases like this, your best bet is to use the internet to find candidates who specialise in your niche until you're familiar with the recruitment process. As an example, if you're looking for an accountant once you land on China's south coast, Hong Kong financial services recruitment would be your best bet to avoid trying to find a needle in the proverbial haystack.
Scope out Office Space.
According to research, around 68 per cent of international firms have an office in Hong Kong, which means the bustling financial centre is certainly doing a lot of things right.