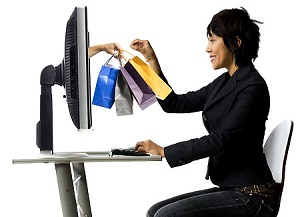 Those looking for information about how to sell clothes online with a virtual store may have come across information regarding online consignment. No longer limited to offline stores, the online consignment counterpart can offer the new business owner a host of benefits, one of which is a greater degree of control over several aspects of the business, including profits and fees.
How Much Can You Make In Online Consignment?
Believe it or not, the brick-and-mortar consignment shop has much in common with its online relative. The physical consignment store owner may not have the room to keep a lot of inventory, or they simply may want to ensure a consistently fresh inventory, and the same may be true of the online store, even if it doesn't have same space limitations like the offline store.
What you can make running your own online consignment can vary greatly, according to a money.usnews.com article. This is because there is no government regulation that determines pricing of consignment items. A person involved in the selling of garments via their own consignment store can charge whatever they like and set their own terms for how long clothing is kept in their inventory.
In addition, the pay cycle varies by shop. Some consignment shops will pay their customers as soon as an item has been sold, simply because many instant online payment sites exist.
Is There A Downside to Running An Online Consignment Store?
Although one may have a digital presence, that presence is still virtual, and the lack of real human physical interaction can pose issues. One issue can be the expectation from the customer, who may want their purchased item instantly as they would with a physical store.  Of course, most people who shop at online stores are aware that a certain waiting period is necessary before they receive their item. But it doesn't hurt to have the typical wait time between the ordering and delivery of an item clearly stated somewhere on your store's web site.
And unfortunately, an article by Small Business Chron reveals that the online consignment store is not free of its costs. Granted, there may not be rent, security and similar fees to pay, but a person wanting to sell clothes online with an online consignment store will have to pay to have their web site hosted. Other costs include any graphic design or copy that your web site requires, the cost to hire models for the clothing, and the like.
You may run into trouble if you haven't set a limit on the price of the items you will accept into your store. Just like with a restaurant's menu, it can be easier for both buyer and seller if you set a minimum amount for what you will accept. You can either limit that amount to one type of garment, such as blouses, or allow your visitors to combine more than one item to reach that amount.
Online Consignment Shops Do Have Their Advantages
One great advantage of having an online consignment shop is that you never have to close. This can mean that your store generates cash around the clock. And the convenience of the operation of such a store from one's home is a definite draw for many who are parents of young children who want to earn money from home.
Because the overhead of a consignment shop online is so low, there is more profit to be had, even after the money has been sent to the clothing's original owner and advertising the items for sale.
Another advantage of owning an online consignment shop is that you can do so from virtually anywhere. Whether you have a small outdoor storage space or a room in your basement, that space can be used to store your inventory. Creativity can make even more space; using space-saver bags to store consignment items in can mean many items can be stored and stacked in available space, such as under a bed in a closet or beneath a set of stairs. Unless you have an incredibly large inventory, any space can serve as storage space, which can lessen your costs considerably.
Access to a larger customer pool as another advantage those looking to sell clothes online can look forward to. Having an online presence means that people all over the world can be reached, which means many more pairs of eyes to see a storeowner's inventory of consignment products. There is no need for customers to travel any farther than their computer in order to visit an online consignment shop.
Finally, the ability to market worldwide can mean that an online shop owner discovers their products are incredibly popular in a particular area, which may not occur with a brick-and-mortar shop owner. These alternate markets can be a lifesaver during times of slow sales when an extra stream of income would be welcome.