by Pabla Ayala, cofounder of pFunk Media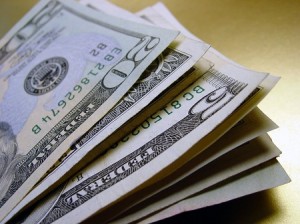 Is your holiday gift-giving list becoming longer and pricier than your current wallet can handle? Make extra cash to help with those expensive holiday costs and maybe even help you put some money back in your wallet so you don't start the New Year off broke! Here are 10 online platforms that want you to show you the money:
An on-demand ride sharing service. Drivers are matched with passengers who request rides through the Lyft iPhone or Android app. Drivers are screened with DMV and background checks, and Lyft's platform has a first-of-its-kind $1M per occurrence excess liability insurance policy. Once a ride is complete, passengers are prompted to donate seamlessly through the app. Drivers are making up to $35/hour + choosing their own hours. Currently available in Dallas, Indianapolis, St. Paul, San Francisco, LA, San Diego, Seattle, Chicago, Boston, and Washington, DC. Requirements:You must be a safe driver, not afraid to put miles on your ride and an iPhone or Android in order to use the Lyft mobile app. Lyft requires you to be at least 23 years old and have your own four-door car (2000 or newer) in good working condition. All Lyft drivers must be friendly, community-oriented drivers who love meeting new people, who can pass a phone screen, an in-person meeting and background & DMV record checks.
An on-demand mobile marketplace allowing busy people to outsource their errands and tasks for a fee. Individuals can browse through categorized tasks and bid for a job and get to work to collect cash for those tasks completed. Tasks range from household chores, coffee delivery, event photography or even Ikea furniture assembly. Payments are made through a secure payment system directly through the site. TaskRabbit is available in San Francisco, New York, Boston, Los Angeles, Chicago and Miami. Requirements:You must create a runner profile including your social security number to complete a criminal background check as well as provide a bank account routing and account number. You should be polite, responsive, courteous, reliable, honest and friendly, but most of all you must be able to complete the task to the best of your ability.
An online marketplace offering 3.5 million Gigs®, or services, at just 5 bucks. Gigs vary in categories like advertising, video and animation, graphics and design, programming and tech, music and audio, gifts, fun and bizarre, online marketing or writing and translation. For $5 users can purchase a personalized holiday greeting card, video message, customized voice over recordings, translation or even order a small hand crafted gift. Requirements: The only requirement is having the time to fulfill your orders in a timely manner to your customers. By creating an original Gig that stands out from the rest you can get multiple orders, which means more money, for a small investment of your time. If your Gig can be easily replicated for large orders you could be making a lot more than just 5 bucks to put in your wallet.
An online marketplace that uses live video chat to buy and sell knowledge, advice or services from experts or Ninjas. LiveNinja offers specialized skills from yoga teachers, meditation experts, lawyers, chefs, computer programmers, website designers, golf pros or even event planners for a range of prices based on each Ninja's customized selected rates. Users can purchase advice by the minute, half hour or hour and even buy tickets to a webinar. Requirements: You must have access to a web cam and a reliable Internet connection. First create a free LiveNinja profile, which can be linked to your LinkedIn profile, and be able to offer a skill you excel at and are able to give expert advice. You don't have to have a degree or certification to sell your Ninja skill, but if you are an amazing cook and have the time to teach others how to cook you can market your skills and set your own prices for your LiveNinja sessions.  By using a PayPal account you can withdraw your money earned directly on LiveNinja's platform. You can even host a webinar series for a live audience of up to 200 people charging a fee per ticket, which means a lot more cash to pay off some of those holiday credit card bills!
A crowd advertising platform that allows the common consumer, or AdMobilizers, to advertise and promote their favorite brands on their personal tablets by walking and driving around, thus becoming moving human billboards. Requirements: You must have an iPad or a car, create an account, download the AdMobilize app and be ready to advertise the brands you like. You can choose if you want to advertise on the iPad, car or both. AdMobilize will send you the gear you need to get started, like a backpack with a clear sleeve allowing everyone you come across to see your ads playing on the tablet, or the AdGear vehicle kit that projects branded ads on your rearview windshield. According to AdMobilize, the average user can earn up to $100 per month, as well as exclusive offers from the brand, by just going about your daily routines.
An online and mobile community marketplace for people to list, discover, and book unique accommodations around the world.  Airbnb connects people to unique travel experiences, at any price point, in more than 26,000 cities and 192 countries. Airbnb is a platform for people to monetize their extra space and showcase it to an audience of millions. Requirements: You must have some space to rent and create an account. It's free to create a listing on Airbnb. You first list your space with choosing a home type: apartment, house, villa, cabin; the room type: entire home, private or shared; how many people the space will accommodate and the location. Then you choose how often your space is available, whether it's one time listing or a recurring listing and add a catchy description, amenities, some nice photos and the listing cost per night. In order to be a successful renter you must be available and ready to answer any inquiries prospective tenants may have, a clean and inviting space, towels, coffee, and city/transit maps, and instructions for common appliances like TVs, internet, and anything else guests have access to. By renting out an extra vacation property, room in your house or just a space in your apartment you could make enough money to get yourself an extra special gift this holiday season!
An online marketplace to find your ideal dogsitter to watch Sparky on your next trip. This site has thousands of trusted and insured dog lovers across the country with rates starting at $25/night, including free pet insurance, 24/7 customer support, daily photo updates, and a 100% money back guarantee to give your four-legged best friend a less stressful, cage free boarding experience. The site allows you to see reviews of petsitters, pictures of the environment and you can pay for the services and make boarding reservations all through DogVacay's platform. Requirements: Must love dogs, period. Create a free profile, set your own rates and decide which dogs to take and when to take them. Whether you are a professional dog sitter or just love dogs you can set your own terms, schedule and rates on DogVacay. The site charges a 15% commission on each successful booking and payments are handled electronically via Paypal or Check. The DogVacay team is also available 24/7 to help you with any doggie emergencies.  This Airbnb model for dogs makes it easy for you to earn cash to host dogs, if humans aren't your thing, while giving pups a comfortable place to stay during the holidays.
An online platform that allows people to rent their vehicles to other travelers instead of parking them at the airport and having to pay for expensive airport parking.  Essentially, FlightCar wants you to earn money while you are traveling. Depending on the type and model year of the vehicle, you can also make up to 20¢/mile in cash, and are provided a $1,000,000 insurance policy. FlightCar picks you up and drops you off curbside and gives you a free car wash. Renters get free GPS and free insurance. Requirements:  You must own a car and pass the FlightCar driving record check upon creating your free listing.  Every renter is limited to 75 miles per day, and in exchange you'll get free airport parking, guaranteed, regardless of whether your car is rented. You call 10-15 minutes before you reach the FlightCar parking lot, located close to the airport and a black car will drop you off curbside at your terminal of departure or another location. Upon arrival just call FlightCar and they will arrange a pick up or get reimbursed for a taxi back. If your car was rented you could collect a check upon arrival for up to $30 on a five day trip, free parking and a freshly cleaned car while you are visiting the in-laws for the holidays. Currently only available for SFO, BOS, and LAX.
An online peer-to-peer rental platform where you can rent anything for a daily rate set by the lister. Users can rent anything from a ladder, sewing machine, Xbox 360, camera lens, bounce house, bbq smoker or even a home. This ebay for renter allows people to list items they may not way to sell, but are willing to rent out during the times it collects dust in the garage or storage unit. For a fraction of the price of buying the item, you can rent it for a daily rate. Requirements: you have to have items you are willing to lend out in order to create a Zilok account to start making money.  The sign up is free and once you load the item image, model info and set your daily rental fee, any interested renters can agree to the rental purchase, which binds you in a contract. The renter pays a prepaid retainer fee to reserve the item until the renter makes the pick up. The retainer can be paid online using a credit card, Paypal or ClickandBuy. The owner then collects the payment for the balance of the transaction (total rental amount minus the retainer fee) directly from the renter when meeting to pick up the rental item. Renters are responsible for setting up a deposit in case of damage, late returns or theft. Zilok requires a bit more work from the renters in order to make cash, but there is also greater opportunity to cash in when listing multiple items.
Parking can be an issue in dense cities and for special events. This online platform allows you to rent out an additional parking space, garage space or space in your driveway for a fee, for cars or bikes, by creating a free account. Renters can chose to book parking spaces lasting from half an hour to over a year, filtering by date, distance and by type (driveway, garage, car park). Currently available in Australia, Belgium, Canada, France, Italy, Sweden, Finland, Denmark, Spain, Norway, Germany, Portugal, Netherlands, New Zealand, United Kingdom and the USA. Requirements: You must have an additional parking space available to rent and it must be cleared by the owner, if you are not the owner of the property. You simply create a free account; include how many spaces you have available and the times they are available to rent. There is even a special instructions autoreply when someone rents, allowing them to access any garage pin codes or directions to access gated spaces. You can also set your own rates on an hourly, daily, weekly or monthly basis. The transaction takes place directly on their platform, but you must refer to the driver and owner agreements for full payment instructions. Let that extra space in your driveway earn you some cash this busy travel season.   Pabla Ayala is the cofounder of pFunk Media, a communications strategy company focused on tech startups. She is a regular contributor to the Miami Herald and co-hosts pFunkCast on Klangbox.fm, a radio show and podcast that showcases the arts, education, entrepreneurship and technology communities.