by Marcela De Vivo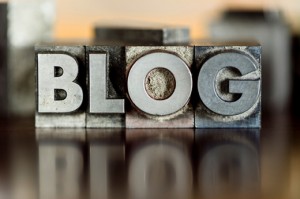 As a startup business, the competitive world of sales and marketing can be a little intimidating. It seems like everyone out there knows more than you and you just don't know how to get started. So, what do you do to make your business just as noticeable and profitable, even though you are just starting out in the world?
A lot of it boils down to blogging. Blogging builds your community in a big way, and it also accomplishes the biggest thing you're after — sales. However, it can do much more than this:
1. Blogging drives traffic.
Traffic to your website means people are looking at what you have to offer. Shouldn't more traffic, then, mean an increase in sales? Fortunately, this is almost always true, so traffic is one of the highest priorities for any business.
The key is to update your blog regularly, ensuring fresh content about your business. Then, link your blog to social media devices, using things like Twitter, Instagram and Facebook – this makes for even more traffic.
2. Blogging builds community.
Sometimes, we forget about how important the community of your business is to success. When your employees feel like a closely knit team, it motivates them to work hard.
Let everyone on your team participate in writing on the blog. No matter what size your company is, they can have an active role in coming up with blog posts throughout the week.
3. Blogging brings trust.
When we read someone's blog, even if we have never met the person before, we feel like we know them; we feel like we are friends with them. The same is true of blogging for your own business.
For customers, they want to feel like they can trust the person they are working with. They want to know that the products they are paying for are worth their money. By creating a blog, your customers have an instant relationship with you and your business. Be sure to respond to the comments they leave!
4. Blogging gives credibility.
Regular posts and updates show others that you know your stuff. Frankly, you want to be seen as the best in your field. How do you do this? Blog regularly about your products. This is your platform for sharing what you know—use it!
The more you update with pertinent content, the more people will realize that you know what you are talking about it. Maximize this opportunity to its fullest potential.
5. Blogging creates discussion.
The blog world is kind of like a virtual place to hang out. People can throw comments back and forth and ask questions amongst one another, but there is a way to make this easier on you.
On your blog, create a place for discussions. Then, get the discussion started with a relevant and intriguing question, something that makes people want to talk. You'll be surprised at how quickly people are to voice their opinion. This makes your business feel more like a community and less like, well, a business.
There are so many different ways to market your new business. While putting your hand in everything can be appealing at first, start blogging — it brings with it a host of ways to market your company and promote sales. And isn't this what we all want?
Marcela De Vivo writes for Gryffin Media and is an accomplished online marketing professional with expertise in social networking, search marketing, and web analytics.