by Charlotte Benedict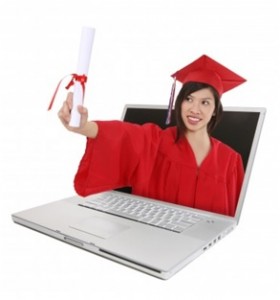 Just over a decade ago, choosing to attend an online university might have meant having to explain to employers that your degree was just as legitimate as one earned on a traditional campus. As with any new technology, employers were often skeptical of online degrees and concerned that the level of education was not as rigorous or meaningful as education attained through traditional programs.
However, with the growth of online schools, more and more employers are accepting of — and actually seek out —online grads. One 2010 survey found that more than 80 percent of employers believe that an online degree is just as credible as one earned on campus, and that in some cases, an online degree is more significant than one earned in person.
While most employers will accept a degree earned from any university, some employers prefer candidates who attended online college, for several reasons:
Online Grads Have Excellent Skills Working Independently.
Choosing to earn an online MBA degree requires that you have the ability — and desire — to do much of your study independently. While online classes require interaction among students via discussion forums, online chats and projects, students are responsible for making time to log in to the classroom, post assignments, participate in discussions and manage the workload on their own — without the benefit of an in-person class to provide a framework. Employers often want employees who can manage their responsibilities without constant supervision, and holding an online degree proves that you can do that.
Online Grads Can Work With Diverse Groups of People.
One of the biggest draws to online college for some people is the chance to work with a wide variety of people from all over the country and in some cases, the world. When you're in a class with people from different cities and who work in different industries, you're exposed to a variety of perspectives, and you also learn to communicate effectively, usually in writing, with people whose viewpoints differ from your own. That flexibility is appealing to employers, who want employees who can communicate well, work effectively with others and respect diversity.
Online Grads Have Excellent Communication Skills.
The vast majority of online education takes place via written correspondence. If you cannot effectively communicate in writing, then online study will probably be a challenge. Online students have plenty of opportunities to hone their writing skills and often develop the ability to get their point across succinctly, while also remaining sensitive to tone and the nuances of online communication. And because most online schools implement technology that allows students to make presentations and interact verbally, graduates still gain the oral communication experience that is part of traditional university learning.
Online Grads Are Open to Innovation.
Within the realm of education, online study is still a relatively new technology, and it is constantly changing. Opting to pursue an online degree shows employers that you are open to new ideas, technologically savvy and ready to innovate; many employers appreciate openness and fresh perspectives from their employees. Again, by studying with others from all over the world, you gain new ideas and perspectives that you wouldn't be exposed to in a school with students who all hail from generally the same area, and you will be challenged to find new solutions and think outside of the box to solve common problems.
Online Grads Can Apply Knowledge Before They Even Finish School.
Online universities allow students who may not have otherwise been able to go back to school the opportunity to advance their studies without quitting their jobs or relocating. Thousands of online students continue to work full-time while they study; they can apply their newfound knowledge to their current positions. When these students earn advanced degrees and begin looking for new positions, they already have experience applying the principles they learned in school — experience that's very appealing to many employers.
While many employers are open to — or even prefer — online graduates, at the end of the day, holding an advanced degree from any type of program will improve your chances of landing a great job and having a satisfying career. Still, earning your degree online gives you a distinct advantage in certain areas and increases your appeal to many employers.
After nearly a decade working in public relations, Charlotte Benedict enrolled in an online university to earn her MBA with a concentration in marketing. Now, in addition to working as the director of marketing for a nonprofit organization, she works with her university's alumni recruitment team, blogging about the benefits of online education.