It's hard to imagine that networking giant Cisco has been in Singapore for 20 years, playing a part in helping Singaporeans get online for the firs time in 1994. Cisco – and Singapore – has come a long way since, and some of us may remember how it, together with the Infocomm Development Authority of Singapore (IDA), created Singapore's first "Internet Home" by transforming an entire housing flat in Bishan to showcase a vision of a connected future.
Earlier this week Cisco celebrated its 20-year footprint in the island state, moving into their new offices at UE Biz Hub within the sprawling Changi Business Park, and upping its commitment to Singapore's future by setting up its regional headquarters here to direct operations in Asia Pacific, Japan and Greater China. The new facility will bring together 1,000 employees from Cisco's previous four offices around the island.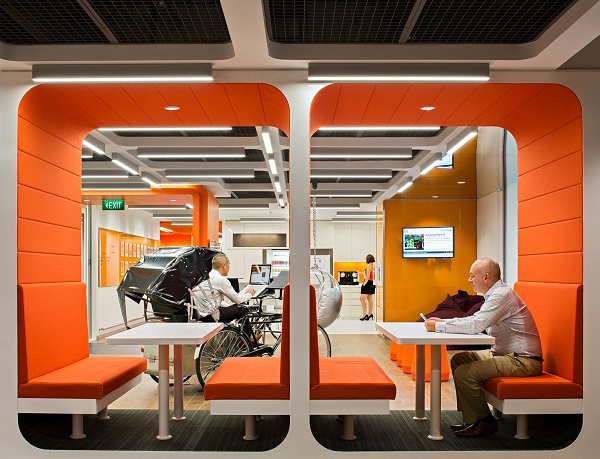 The new office in Singapore combines intelligent building structures and incorporating green features such as motion-based sensors for energy efficient control of lighting, a regular electronics disposal and recycling initiative, and a utilization-based space allocation which combined with mobility technologies enable employees to sit at any desk, on any floor, hence reducing real estate footprint, using less infrastructure resources, and providing flexibility to allow for team expansion.
"Singapore stands out as a shining model in the world of what can be achieved by an economy through information and communications technologies (ICT)," says Cisco president and chief operating officer Gary Moore, who was in town for the official opening of the regional headquarters. "Singapore's vision is very much aligned with Cisco's especially when it comes to Internet and education, two of the great equalizers in life."
"We are proud to play a part in building an intelligent and connected Singapore and we continue to work closely with our Cisco Networking Academy program to build a 21st century, future-ready workforce in Singapore," adds Josh Soh, managing director for Cisco in Singapore and Brunei.