By Ingrid Vanderveldt, Dell's Entrepreneur-in-Residence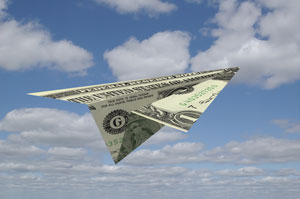 It's the paradox of the modern startup. Startups are hungry for credit, but banks and other financial institutions have never been stricter with their financing parameters. They're using metrics that are often unworkable in the current business environment, causing growing businesses to look elsewhere for capital and increasingly towards alternative forms of financing.
With new crowdsourced fundraising operations like Kickstarter and IndieGoGo, entrepreneurs are finding that they might be able to rely on the kindness of thousands of strangers who are willing to invest in their ideas. And the JOBS (Jumpstart Our Business Startups) Act, which should go into full effect by the end of 2013, will make it even more of a game-changer by opening the door for businesses to market ownership stakes in their ventures to people over the internet.
Despite this, crowdfunding has a pretty big gap to fill. The need for funding in the early days of a business is constant and the timeline until profit can be long. With business moving at the speed of light, many companies chew through vital operating capital and end up closing doors and burying dreams within the first three years – if they last that long. Case in point: It took Amazon six years to earn a dime, during which it consumed huge amounts of venture funding and issued an IPO.
Thankfully, the availability of other unconventional funding options is also increasing, providing capital to entrepreneurs whose businesses may grow to become long-term customers. One example of this is the $100 million Dell Innovators Credit Fund launched last June, which offers financing for technology products and solutions to newly venture-backed startups. Similarly, Goldman Sachs' 10,000 Small Businesses program is a $500 million investment to provide entrepreneurs with access to education, financial capital and business support services. Another is Google Ventures, which works with portfolio companies full-time on design, recruiting, marketing, and engineering.
Such programs help early-stage companies get the capital they need to fuel growth, especially when banks aren't lending. Network Redux, a managed-service provider in Portland, Oregon, serves more than 1,100 clients globally, but could not secure credit after the 2008 credit crisis despite a 100 percent year-over-year growth rate. Network Redux looked for non-traditional access to capital and financed 100 percent of servers and storage required to meet customer demand, which enabled the company to continue to grow by double-digit percentages.
Big companies that invest in small businesses play an important role in creating jobs. According to the Small Business Administration (SBA), small businesses have generated 64 percent of net new jobs over the past 15 years, hire 40 percent of high tech workers, and produce 13 times more patents per employee than large patenting firms. Corporations are also recognizing that filling the needs of entrepreneurs requires insight from entrepreneurs themselves. The Innovators Credit Fund was suggested to Dell by Ingrid Vanderveldt, a seasoned entrepreneur who is Dell's first and current Entrepreneur-in-Residence (EIR). Also lending mentorship is a 13-member Dell EIR Advisory Board composed of leading entrepreneurs, visionaries and innovators, who provide guidance based on their own experiences of running the gantlet of early-stage business ownership.
If nothing else, today's strict lending environment has opened the door to alternative lines of credit which place an equal emphasis on providing resources and networks that better enable innovative startups to succeed. With this additional scaffolding, promising ventures can ensure they have what they need to reach profitability more quickly and less painfully. Moreover, these alternative lenders feel like they're not only getting in on the ground floor of these innovative companies, but fostering their growth and having a true hand in their success. After all, if the ebbs and flows of the economy over the last couple decades have taught us anything, it's that innovative small businesses are what help America prosper.
Ingrid Vanderveldt serves as Dell's Entrepreneur in Residence.
This article was first posted in Dell's Tech Page One.