[ADV] The Stand-Out SME e-Book: Trends, Technologies And Tips For Successful Sales And Marketing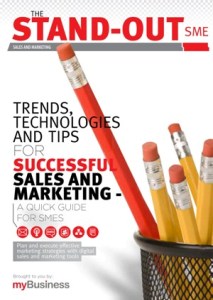 Far too many small businesses spend so much of their time on the daily grind and trying to stay afloat that some of them often don't even have the time to catch up on the latest advances in digital technology, especially when applied to sales and marketing. And we all know that without proper marketing and effective sales, there soon will not be a business. But even when entrepreneurs and business owners have the desire to understand and learn how to take advantage of technology for their business, many of them don't know where to start.
That's where "The Stand Out SME: Trends, Technologies and Tips for Successful Sales and Marketing" comes in. Put together by SingTel myBusiness, this 20-page e-book is a great primer for small- and medium-sized business owners to learn about consumer online trends and how to put together an effective online marketing plan. You'll learn about, for example, online commerce, as well as search engine marketing and optimization (SEM and SEO, respectively). There's even an article that argues the case for email as a good way to reach customers online.
The e-book won't answer every question you have about digital marketing – that's not its purpose. "The Stand Out SME: Trends, Technologies and Tips for Successful Sales and Marketing" is simply aimed at demystifying digital marketing – and its various tools – for small business owners who're still unsure about venturing into that space.
Best part? It's totally free – all you need to do is sign up as a SingTel myBusiness member.

Young Upstarts is a business and technology blog that champions new ideas, innovation and entrepreneurship. It focuses on highlighting young people and small businesses, celebrating their vision and role in changing the world with their ideas, products and services.