Asia, you're fired.
No no, this is not some sick joke about failing Asian economies and massive corporate retrenchments – instead, Asia will see soon its own edition of hit reality TV series, "The Apprentice", in which contestants competed for a job as an apprentice to billionaire American Donald Trump. The Apprentice Asia will see various contestants from around Asia vie for a position with Malaysian entrepreneur Tony Fernandes of AirAsia fame.
FremantleMedia, which has produced various hit reality TV series such as Idol, The X Factor as well as the game show The Price Is Right, is currently looking for aspiring and/or successful entrepreneurs, professionals or anyone who'd like to bring their ideas for business onto a big stage for The Apprentice Asia. Contestants can come from backgrounds in various enterprises, but typically backgrounds in real estate, accounting, restaurant management, consulting management, and sales and marketing, stand in good stead.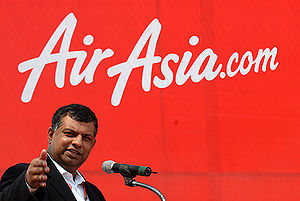 If you're interested, you need to be able to fulfill the following criteria:
– Age between 21 – 45 yrs old
– Currently living or working in Asia
– Well-versed in English
– Good sense of business marketing and management
– Have an expressive personality and an interesting background
– Able to take pressure and be creative
– Self-motivated
– No record of imprisonment or bankruptcy
If you meet those requirements, you can fill out this form and send a DVD with a 5-minute video introduction that includes the following:
– Basic information including name, age, country of residence, etc.
– Present job position and brief description of current or most recent job
– Where do you want to be in 3 years' time?
– How do you see yourself achieving this?
– What do you hope to achieve by being on Apprentice Asia 2012
– What inspires you and why?
– Who is your business idol and why?
– Share about your best and worst life/work experiences
You can then mail the whole she-bang to:
The Apprentice Asia
FremantleMedia Asia Pte Ltd
10 Raeburn Park, Block A #03-02/03
Singapore 088702
Yes, the application process is pretty tedious. Oh, and applications must be received by 15 June 2012.