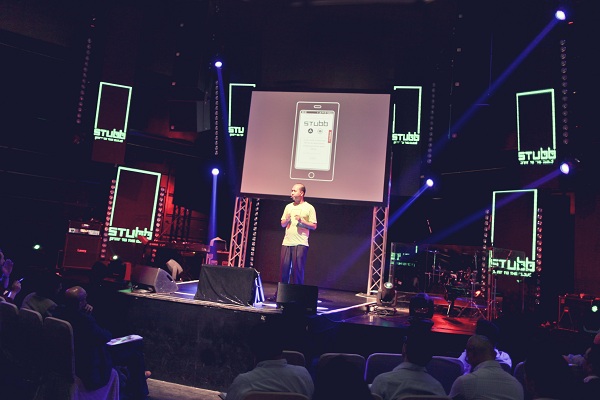 Organized by technology startup accelerator Joyful Frog Digital Incubator – better known locally as JFDI Asia – the recent JFDI-Innov8 Bootcamp saw some 11 local and regional technology startups undergo a tough 100-day program that saw them attempt to turn a prospective idea into a potentially sustainable digital business. Teams participating in the bootcamp had been selected for their technical and communications skills as well as their passion to solve problems in a particular domain. Many were first-time entrepreneurs with no formal business training. The program, which began in January this year, provided them with seed funding, intensive mentorship from international industry experts and the potential to access mobile markets across Asia. Last weekend saw the end of the program, and the startups were then expected to prove their worth to a crowd during the JFDI-Innov8 Bootcamp Demo Day.
JFDI Asia sure knows how to throw a Demo Day: it turned local nightspot TAB Singapore into part startup launchpad and part investor pitch conference for the Demo Day. Amidst strobe lights and flashing screens, the 11 startups were, in turn, thrust onto a stage to pitch their ideas to a crowd of over 100 potential investors – ranging from business angels to venture capital fund managers including MIH Internet, JAFCO Asia, iGlobe Partners, Crystal Horse Investments, WaveMaker Labs, Golden Gate Ventures and Jungle Ventures – some of whom flew in from around the region.
Here are the 11 startups that presented at the Demo Day:
Think of ShopSpot as a mobile version of eBay – a phone app that allows consumers to easily buy and sell items. All you need to do is snap a picture of the product you want to sell with your mobile phone, and list the product details.
Kark makes a tablet-based mobile game and educational platform that uses collectible cards with QR codes on them. Games, education and children? Great combination. Kark has already received some funding.
Tradegecko offers a business-to-business web-based, mobile-friendly app that provides supply chain management for independent brands and their retailers. This should be incredibly useful for blogshops.
Remember is positioned as as a mobile consumer application that acts as a sort of family "time capsule" that lets you capture, keep track and share those precious family moments.
Another app that targets parents, FamilyKo allows separated families separated to bond and grow together. (The founders positioned this for Filipino foreign workers, but this can be easily used by incarcerated family members or by the military for personnel on extended overseas missions.)
A web travel service that visualizes nearby destinations on an interactive map, so leisure travelers can browse by budget and book their next getaway in minutes, not hours. A different, and fun, way to look at travel options. Flocations recently turned down funding on the show Angel's Gate.
An enterprise social application that lets brands build and manage Facebook and Twitter pages, giving them control of brand identity over multiple sites while maximizing their social media marketing. Not a new startup, Fetch Plus was first unveiled officially at Echelon 2011.
This B2C web service aims to makes it fun to discover and plan vacations with groups of friends, thereby increasing the frequency and size of group travel bookings online.
This is a document sharing service that connects your printer to the cloud. Anything you can print, you can publish online. Interesting use case for QR codes. (I can see this in enterprise use.)
A talking encyclopedia on your iPhone targeted at 5 to 12 year olds, who can enjoy learning without needing any literacy skills.
A social recruitment platform for companies to leverage their staff to attract potential talent.
The quality of the startups and their presentations during Demo Day was exceedingly high – it was evident that the 100-day program had done its job of polishing the startups for prime time. Investors were quick to speak to many of the startups once the presentations were over. Will this see funding for the startups? Only time will tell. In any case, the founders all felt that the time spent had been worth it.
"The JFDI–Innov8 Bootcamp has been a really good experience," says Sindhu Prabowo, CEO of Kark Mobile Education. "The mentors have been great, helping us refine the financial and technical aspects of our project. Our mindsets shifted when the mentors challenged us to think bigger and see our project as something that could go global. Now that is happening."
"This is a great result for the start-ups, the JFDI–Innov8 Bootcamp and the regional start-up ecosystem," says Hugh Mason, CEO and co-founder of JFDI, the first member of the Global Accelerator Network in Southeast Asia. "For the first time, the fast-track accelerator approach pioneered and proven successful in the US by TechStars has delivered real results in South East Asia. Just as in the US, the bootcamp has been a community effort that would not have been possible without the huge generosity of many people and organizations."
(Photo credit: JFDI Asia)