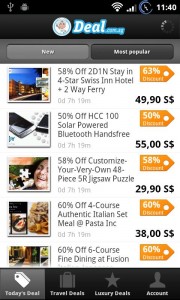 Online daily deal sites have been experiencing explosive growth over the past two years, and the phenomenon seems unabated. The next big wave in daily deals seems to be in the mobile space, what with many of these sites introducing mobile applications to make bargain hunting all the more convenient. For example, Singapore-based DEAL.com.sg, one of the country's top daily deal sites, just announced a mobile application for Android, just a month after it launched its iOS version.
Expectedly, extending deals to consumers beyond the web into the mobile arena is critical for these sites' continued growth, and DEAL.com.sg looks set to be a frontrunner in this space. "Tapping on technological advancements in mobile applications has worked favorably for DEAL.com.sg," reveals Patrick Linden, co-founder and CEO for DEAL.com.sg, who adds that its iOS mobile application saw some 100,000 downloads since its August launch, and which even topped the "free app" ranking on iTunes Singapore. The mobile app's unique feature was its paperless redemption process, which allows deal hunters and purchasers to redeem their deals simply by showing participating merchants their mobile phones, and without the need of printing physical coupons.
"We intend to continue making waves in Singapore with this launch, and hope that our Android customers will enjoy their DEAL experience from their mobile phones."
Established in 2010, DEAL.com.sg is part of Dealguru Holdings Pte Ltd, which also runs MyDEAL.com.my in Malaysia. The Singapore site even won the Red Herring Asia 100 award in that year. CEO Patrick Linden grew the company from two to 110 employees and which now sees a monthly turnover exceeding US$3,000,000. Prior to DEAL.com.sg, Linden founded the international high potential network iHipo.com, which was sold to Potentialpark Communications A.B. in early 2010.