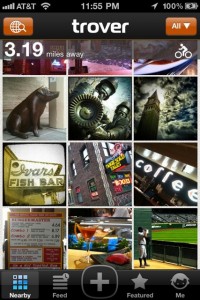 Trover (www.trover.com) is a mobile discovery app that is created for explorers who love to share their discoveries with each other in a visual way. Its defining feature is its location-based discovery mosaic, which essentially triangulates your location and lets you visually browse through an eye-catching collection of thumbnail images featuring places to see and things to do nearby that others have discovered and shared. Think of it as a version of Foodspotting, but extended to, well, everything.
Using Trover is easy – simply snap a picture, put in a description and the app automatically tags your location. Other features are pretty much what you would expect from a discovery app – a mileage indicator shows you places within a certain range, and you can follow interesting people with common interests on your feed. You can also view a specific location for a virtual preview.
Trover is founded in April 2011 by a trove – forgive the pun – of experienced social, mobile and travel industry entrepreneurs, such as Jason Karas, who founded Carbonrally.com; Andrew Coldham, vice president of technology who directed software development at Expedia.com's corporate travel division and Rich Barton, chairman, who founded Expedia.com and co-founded Zillow. The idea was first born as an idea among the management team at TravelPost, a community for travel enthusiasts.
"I've always dreamed of having a personal guide to the world with me at all times, full of recommendations from my friends on where to go and what to see," adds Rich Barton, chairman of Trover.  "Likewise, I have a strong urge to capture my own discoveries, so when my friends and followers come by in the future I can steer them to the good stuff.  This is why we built Trover."
A limited spring trial opened to Facebook members attracted more than 70,000 users in 150 countries, but it is now available to the public as a free iPhone app in the Apple iTunes Store, with an Android version planned for later this year.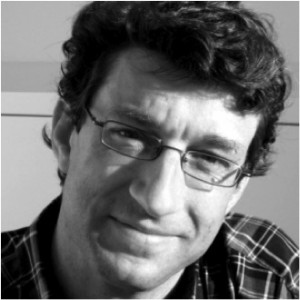 "Trovers are passionate about sharing the unique things they uncover while exploring their cities or far away places," says Jason Karas, CEO of Seattle, Washington-based Trover.  "People find fulfillment in introducing something remarkable to another person. That, in turn, creates a social resource that's fun, entertaining and ultimately very useful. Whether it's a favorite boutique, a great bartender, a hidden piece of graffiti or a secret path to a deserted beach, with Trover in your pocket it's easy to find and share amazing discoveries."
Trover is a private company funded by General Catalyst Partners, Ignition Partners and Benchmark Capital.