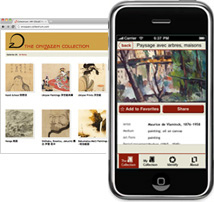 You'd think that the art world would be the most stodgy in terms of technology and being forward-thinking – but you'd be surprised at the sea change the industry is experiencing. There are already websites such as Asia-based Artyii as well as Artist Become that helps artists around the world sell their art online to a larger audience. And then there's New York-based Collectrium (www.collectrium.com), a technology company that's focused on creating web and mobile tools for collectors, galleries and art fairs to manage their art.
For example, two recent international art fairs – arteaméricas in Miami Beach,and Zona Maco Mexico Arte Contemporaneo in Mexico City – deployed Collectrium technology that allowed iPhones and iPads to point at any registered artwork and receive extensive information on the artist and the piece. Through the app, users can mark the artwork as a favorite, as well as share with friends via social media and email. For unidentified artworks, a user can easily input their own information and create their own virtual galleries. Collectrium also functions as a QR code scanner, so for sculpture, installation, moving image pieces, or any work with a QR code on the label, visitors can use Collectrium to scan the QR code to identify works of art.
"This is a social art management system, part of the next generation of tools for appreciating art," says Boris Pevzner, the former Silicon Valley entrepreneur who founded Collectrium in 2009. "Our app makes the experience of visiting an art fair more interactive for the art lover — enhancing the on-site visit, while also allowing visitors to take the fair home with them."
"We've created a bridge between the physical and virtual art worlds by bringing the power of online technology to that live moment of discovery," he adds.

Over time, the Collectrium team — which has extensive expertise in the fields of in technology, finance, and the contemporary arts — aims to offer collectors and galleries integrated services for art storage, appraisals, financing and other needs.
Disruption in the art world? Yes, much.