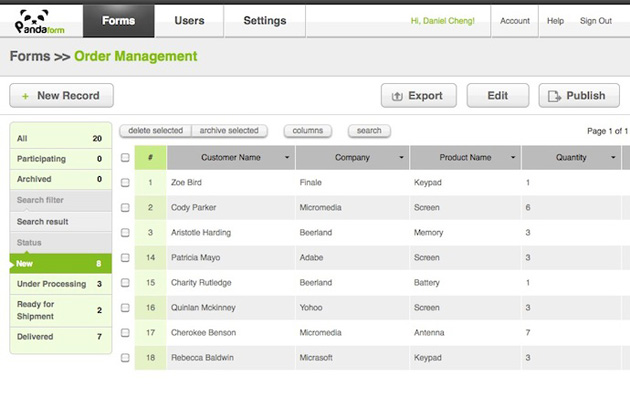 PandaForm is something like Google Docs, only better. I believe many of you would have realized that Google Docs's form feature has quite a number of limitations. It's free, simple and useful. However, if you want a form that does more than just collecting simple data, PandaForm is the tool for you.
"Google form is free, but it lacks a lot of features, such as payment processing and customized notification emails, which makes it unsuitable for serious business users," Ben Cheng, co-creator of PandaForm, explained to us.
"What comes after can also drive you crazy. Data collected through Google form goes straight to a Google Spreadsheet. It can get really messy if you're managing customer orders with spreadsheet, using hundreds of columns to track status and progress. It's error-prone."
PandaForm comes with a set of user-friendly database management tool and simple workflow feature, which help make processing data with a team simple. It also retains each data entry in a "form format", thus enhances the users' experience and reduces frustration.
PandaForm has about 4,000 users worldwide. Most of the users use PandaForm for event registration, customer feedback and ticket sales analysis. 'Madshuttle', a Spain-based shuttle bus company, uses it as an online booking system.
"We are glad to see how companies like Madshuttle are able to set up something useful and suitable for themselves without spending a lot of money," said Ben.
"However, the most interesting case study we've encountered is a realtor in Macau called 'JML' who uses PandaForm as its client database and CRM to track sales lead. JML had tried all kinds of CRMs, but PandaForm works better for them," Ben shared with us.
Besides payment, registration and CRM, PandaForm can also be embedded into your Facebook page as a product order or feedback form. You can catch PandaForm's feature tour here to understand the product better.
PandaForm is a product of Oursky, a web application development company based in Hong Kong. Founded in 2008, the Oursky team consists of 9 developers and designers who all have start-up experience. PandaForm was created in 2010.
The company is currently self-funded by conducting consultations and contract work for other businesses. "We're actively looking for investment so we don't get distracted by consulting business," said Ben.
VCs, take note. A strong start-up team with a good product is waiting to be invested.
This article was first published on Penn-Olson, a tech, business and marketing blog focusing on US and Asia. Penn-Olson is a Young Upstarts content partner.