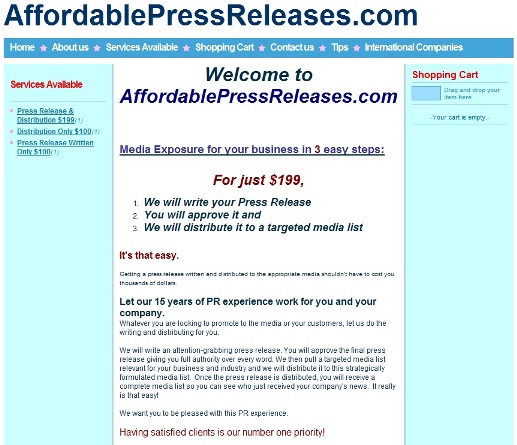 Small and mid-sized companies who are unsure about spending money on public relations for their businesses – especially those who may baulk at the usual prices charged by large PR firms – can try the recently launched AffordablePressReleases.com. AffordablePressReleases.com is totally focused on press releases, offering press release writing and distribution services at a fraction of the usual cost. In fact, the company only allows three options: press release writing at US$100, press release distribution at US$100, or both at US$199 (you save a dollar!).
"We have been working in this space for over 15 years. We saw a need to offer our services to small and mid-sized companies who also have a need to get their company's story out to the media as well," says Irene Spanos, founder of AffordablePressReleases.com. "We work out of our homes, which allows us to be affordable – we don't have to pay for big buildings and expensive offices. We can offer much lower rates to our clients because we don't have a lot of overhead. We truly want to make it affordable for all companies to get their message out to their relevant media."
 
Of course, press release writing and distribution is only a tiny fraction of the entire public relations spectrum. There's also the danger that affordable PR services such as these may lead to an outbreak of announcements that aren't newsworthy, but Spanos does insist that if her team didn't feel a company's news would be "newsworthy" to the media, they actually tell that to their clients.  "Of course, I don't want my clients to waste their money, on something that the industry doesn't care to write about." But services like AffordablePressReleases.com do, in some ways, help to lower the barrier of entry for some businesses who are still hesitant about the return on investment on PR.