All social media marketers know the importance of tracking and analyzing online social metrics; the trouble is finding the right solution that meets their needs so as to be able to prove the value of social media marketing to various stakeholders, be they clients or internal management. To complicate matters, the online social media measurement space is a very competitive one, and there are multitudes of such services to choose from. Cue in newly-launched Social Report (www.socialreport.com).
Social Report is a social network analytics solution that helps track and analyze social network accounts – Facebook, LinkedIn and Twitter, for example – and provides tools to manage marketing initiatives. For example, its suite of tools helps measure indicators such as membership trends, activity and engagement, membership sentiment, interest areas, as well as demographic information such as geographical distribution, education level, gender, employment, and other metrics. All this information is presented in visual reports. What's interesting is that the service also extends to cover social networks such as MySpace, YouTube, Foursquare, LastFm and Bebo, which are not usually tracked by other services.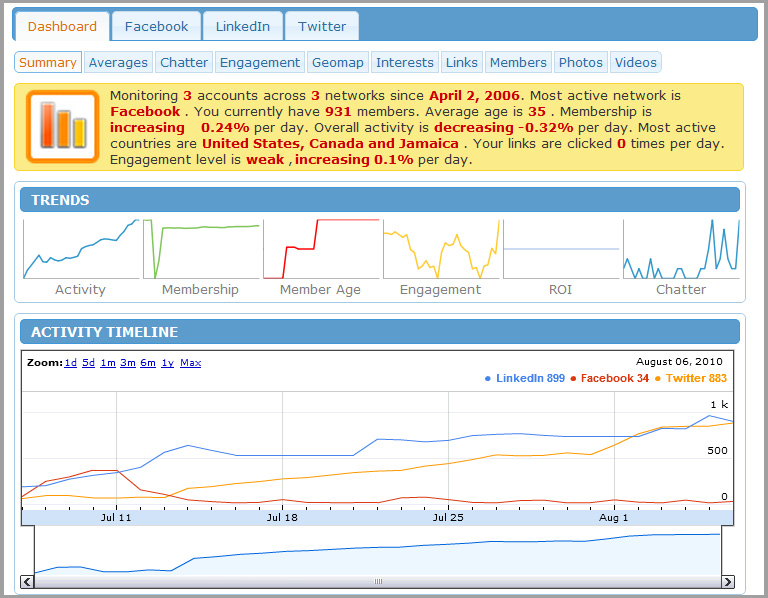 Making The Life Of An Online Social Marketer Easier
New York-based Social Report is founded by Vitaly Veksler, a 15-year web development veteran who was part of the dotcom boom – and later, the bust – of the late 90s. The computer science graduate from the University of Texas currently runs technology consulting group WebAlgorithm.
"Interestingly enough, it started with a bar-side conversation with a social marketer and a discussion of some pain points of being a social marketer," Vitaly reveals. "Not having a tool that allows to visualize the performance of networks and run reports from it made this social marketer's life quite difficult, as they had to hire interns and basically built out reports for their customers manually."
Social Report's pretty much similar to website analytics such as Google Analytics, he concedes, except that applies to social networks and can be used to measure marketing effectiveness in the online social space. "My goal is to specifically offer this tool to social media agencies and consultants as it is meant to help you with managing customers as well provides a great presentation vehicle to acquire new business."
Social Report offers a variety of subscription plans ranging from US$9/month to US$79 per month for a top-of-the-line enterprise version; they all come with a 30-day trial.
Entrepreneurship Is Like "The Way Of The Warrior"
Vitaly Veksler likens entrepreneurship to Bushidō, the Japanese samurai's 'Way of the Warrior'. "(It's) clearly a very difficult path to take, but I think people are driven toward it by certain unexplored creative powers," says Vitaly. "Entrepreneurship takes courage, dedication and a lot of work!"
He adds that for entrepreneurs, learning happens on all levels. The key lessons he'd like to share with other entrepreneurs? "Understanding what customers are wanting, (and) identifying the 'holy grail' is key and absolutely necessary to achieve anything."