Obesity is a major problem in America, and it's only getting worse. Entrepreneurs Keegan Hall and Eric Fogel, founders of Emergent Detection, believe they have a solution to this weighty issue with their fitness technology product, BodyKey.
Today, about one in four Americans is obese – medically defined as having a body-mass index (BMI) of more than 30 kg/m2 – and its strain on the economy is telling. The thing is – many people want to lose weight, and they've tried various diet and fitness programs that just haven't worked. In many cases, the main reason is because these programs fail to address one of the most important aspects of successful weight loss – behavior modification, says Keegan Hall, co-founder of fitness technology startup company Emergent Detection. "In order to sustainably lose weight, people need to permanently change their bad eating habits and exercise regularly.  For many people staying motivated throughout this process is a challenge," he adds.
Emergent Detection's solution? They've been working on a device called BodyKey that provides people with immediate feedback about their body and weight-loss progress – this helps keep them motivated so that they can successfully reach their weight-loss goal.
Tracking Weight Loss
Emergent Detection's BodyKey comes in three parts. The first part is essentially a phallic-looking device, with which you attach a disposable test cartridge (the second part). After a (preferably intensive) workout, you supply a small urine sample to the test cartridge, which the BodyKey device then analyzes. In about 45 seconds, you'd find out how much actual fat you've burnt off that day from your diet and exercise efforts. The third and final part of BodyKey is its accompanying computer software, loaded with useful tools that allow you to track your daily progress, help you select foods and exercise programs that are ideal for your body, and provide you with accurate forecasting so you will know how long it will take you to reach your goal. Just remember to hit the eject button to dispose of the used test cartridge.
"The device measures the rate of actual fat being burned, and through repeated measurements you can come up with a projection of how long it will take you to reach your weight loss goals," Keegan says, explaining that it provides a direct measurement of the user's actual metabolism. Bonus – dieters no longer need to wait weeks or months to assess the effectiveness of their diet and fitness program. "We live in an on-demand society where people want information now and they don't want to wait weeks or even months to see results."
"Our target customers are the people who have made the commitment to lose weight." In broader terms, he says, BodyKey is ideal for anyone who wants to lose weight and live a healthier life. When it goes commercial, the company is planning to retail the hand-held device at US$199, and US$0.50 per cartridge. The software program will work on a subscription basis at US$9.95 per month.
Keyed Up For The Fight Against Flab
Emergent Detection is founded by Keegan Hall and fellow University of Washington MBA, Eric Fogel. Keegan, who serves as chief marketing officer, previously served at director and vice-president level positions in sales and marketing for companies such as Live Nation and Seattle Sonics. Eric Fogel, Emergent Detection's president and CEO, aside from his MBA also has a Masters degree in Biochemistry and previously worked as a research scientist for Amgen.
Earlier this year, Keegan and Eric had combined with two other UW business grads – Joel Gjuka and Amanda Mathes – and competed in the prestigious University of Washington Business Plan Competition. They emerged in 3rd place, after squaring off against 92 other teams from 15 different schools in the country's northwest, which helped the company gain some early attention.
The underlying technology behind their product, reveals Keegan, was developed by Dr. Aaron Falk, a PhD physicist with over 40 patents to his credit.  Essentially, Dr. Falk figured out how to take the core technology found in the spectrophometer – a large device more commonly found in laboratories to measure light intensity – and miniaturized it into a hand-held device, and then reproduce it in an inexpensive way. Eric Fogel and Dr. Falk then spent time trying to figure out the best way to utilize this technology, and examined hundreds of potential uses for the technology until they decided on the weight-loss industry.
The founders have bootstrapped all their initial milestones – spending an estimated US$186K of their own money so far – but recently secured a seed round of funding from angel investors for US$37.5K, which they are using to build advanced iterations of the BodyKey device and software. The company is also currently raising a US$500K preferred equity A round, and it plans to use this capital to fund the initial manufacturing run of its product as well as develop sales channels when it finally launches in 2011.
"One of our key challenges is raising capital during this uncertain economic time," admits Keegan.
[Update November 2010: Emergent Detection was awarded a US$229,900 grant under the U.S. Government's Qualifying Therapeutic Discovery Project ("QTDP") program.]
Making Meaning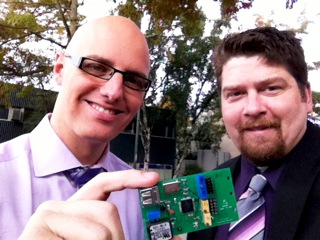 For Eric Fogel and Keegan Hall, entrepreneurship is a passion.  "There's nothing like being on the front line and building a company from the ground up," Keegan explains. "Every day is unique and the challenges are seemingly endless, but we wouldn't have it any other way." Even better, he says, is the fact that their company is involved in making a positive difference in people's lives, by helping people lose weight and live healthier. "We are setting out to improve the lives of millions of people," he insists.
They learned many lessons in their entrepreneurial journey, much of it related to perseverance. Believe in yourself and don't listen to naysayers. "There are always going to be people that tell you a millions reasons why your company won't be successful, but if you truly believe in yourself and your product then anything is possible." They quote the words of entrepreneur and venture capitalist Guy Kawasaki, author of "The Art of the Start" and "Reality Check". "The best reason to start an organization is to make meaning – to create a product or service to make the world a better place," says Keegan.
"And that is exactly what we're doing."