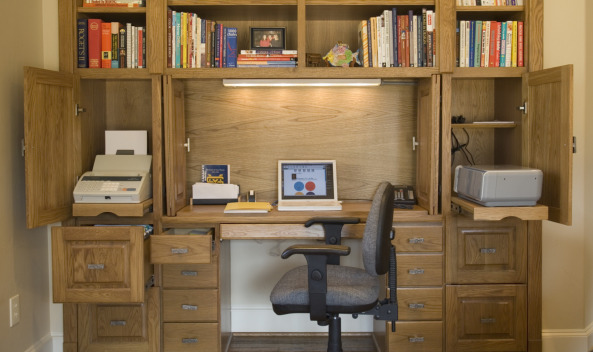 Making the decision to start your own business is exciting, even more so after the business has launched and you feel pride and accomplishment at seeing your vision come to life. However, once the business has started to take off, one of the challenges that young upstarts often face is how to manage their time and their new office space, which many be smaller than they were used to in perhaps a more corporate setting. While this new small or home-based office may appear to have little space for anything more than a desk, credenza, bookcase and file cabinet, it's not about how much space you have; it's how you use that space. When setting up or reevaluating your current small or home-based office, think vertically and put your walls and corners to work.
Managing Space
1) Add shelves above or next to your desk to gain more storage space and to reduce desktop clutter. You can use open shelves or a hutch that sits on your desk to increase your storage space. A tall, four-shelf bookcase (ideally with adjustable shelves) can hold dozens of books and reference materials. Adjustable shelves make more sense than fixed shelves because they eliminate wasted space above and below the shelves.
2) If you use an L-shaped arrangement, use the space where the two surfaces intersect to hold your printer, fax or all-in-one (AiO) machine (printer/copier/scanner and/or fax). AiO machines are great space savers for a small-sized office because you only need one machine to perform several functions.
Brother International Corporation (Brother) manufactures inkjet AiO and laser printer and AiO machines that cater to the small or home-based office worker with their exceptional value and wide set of features. For those in need of vibrant image printing, the newest addition to the inkjet AiO line is the MFC-J615W, which includes valuable features such as: easy to setup wireless (802.11b/g) or wired Ethernet networking; the ability to scan directly to media cards, PictBridge-enabled camera, or USB flash memory drive; and easy editing with the 3.3″ Widescreen TFT color LCD display. Small business owners in need of sharp text, quick speeds and a heavy printing cycle should look towards the Brother laser series, in particular the MFC-9320CW. This unit has a compact footprint, built-in wireless network interface and offers a USB direct interface to print PDF and JPEG files from a USB flash memory drive.
3) Make one piece of furniture serve two purposes. For example, a lateral file cabinet can hold your AiO on top and files inside. (A hint about lateral file cabinets: if you don't want your files facing left or right, place two letter-sized frames front to back so when you open a drawer, the files are facing you.)
4) If you have only a few desk drawers, use a rolling file cart to store extra files or supplies below your desk. If you store the cart next to your desk, you can store your printer, fax or AiO machine on top.
5) Open up more desk space by storing memorabilia, cards from friends and clients, or phone lists, on a bulletin board instead of in piles. Don't use the board to post tasks to accomplish or important information about projects, unless you know you'll refer to the board daily.
Managing Time
After you've managed your space, you can take control over your time. The best practices for a young startup struggling to manage time are:
1) Utilize a "To Do" list, whether paper-based or electronic, formal in a planner or an informal paper list. It doesn't matter what system you choose, as long as you find a system that works best for you.
2) Throughout the day ask yourself if what you're doing is the best use of your time. Are you working on something that you need to finish today or is it something you could finish another day?
3) Figure out your best time of day and schedule important tasks for that time. Whether you jump out of bed every morning ready to get to work, or crawl out of bed knowing you'll reach your peak in the afternoon, plan accordingly. Concentrate on important tasks during the time you're more productive and leave the less important tasks for when your energy level is low.
4) Stay focused on the activity at hand. It's easy to start one project and then bounce to another without finishing the first. At the end of the day, you may feel exhausted but you haven't accomplished as much as you'd hoped. The next day, refocus, stay on task and you're likely to accomplish more the next day.
When you're working in a small or home-based office, your space and time may be limited, but the possibilities for your success are endless.
***
Some books by home office expert Lisa Kanarek: