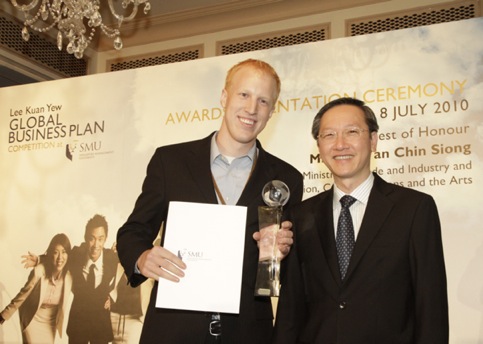 After seven months of intense competition, Altus Poles LLC from the Brigham Young University in the US has emerged as winner of the biennial 5th Lee Kuan Yew Global Business Plan Competition (李光耀环球商业计划比赛) organized by the Singapore Management University (SMU) and sponsored by HSBC Bank.
23-year-old Mark Jensen of Altus Poles LLC won US$36,000 with his business plan to revolutionize the communication tower and utility pole industry with a manufacturing process that will produce a stronger, lighter and safer structure.
Second place goes to Biofont from Canada's University of Waterloo – its hospital bacteria-screening device earned a US$12,000 prize. Innotest Limited from City University of Hong Kong won US$3,000 for pitching its transgenic fish which can be used to test for toxic substances found in everyday consumer products and aquatic environment.
Biofont's Sukhsagar Jolly clinched the first "Most Promising Young Entrepreneur" award for taking a year off from school to focus on his business. He was awarded S$5,000.
Also for the first time, one of the three top teams will get a chance to undergo a three-month exposure with PlugandPlayTechCenter.com in the Silicon Valley.
Speaking at the awards presentation ceremony on July 8, 2010, Parliamentary Secretary for the Ministry of Trade and Industry and Ministry of Information, Communications and the Arts, Mr Sam Tan says, "With the Lee Kuan Yew Global Business Plan Competition, SMU has gone a step further by providing budding young entrepreneurs with the opportunity to compete globally and be exposed to international trends and ideas."