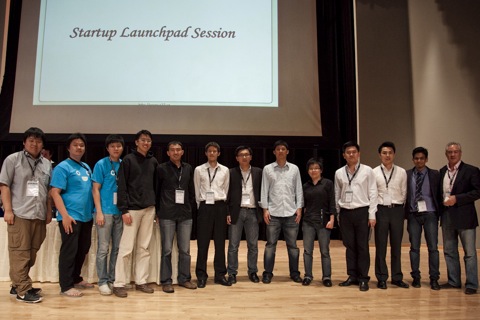 One of the most interesting features of the recent Echelon 2010 event held in Singapore earlier this week were the launchpad sessions, where ten web technology startups from around the region unveiled interesting new services. The 10-minute pitch sessions were conducted in front of a crowd of up to 600 people and judged by a panel of luminaries, including one sleep-deprived – and hence potentially snarky – startup investor Dave McClure.
Let's take a look at the ten startups:
Contentian
Contentian by Maxus Media & Software is a copywriting workflow and collaborative writing tool – via a content management system (CMS) plugin – to help individuals create and improve website content. The tool basically bridges the gap between web content copywriting and a CMS. Features such as target audience analysis, and brainstorming and peer-review functions allows better collaboration and targeting.
FlickEvents
FlickEvents is an online events management application created to boost event turnout. As founder Yan Phun put it, "Conferences don't draw people, people draw people." The service offers event organizers with tools for publishing and promoting their events. It incorporates registration and payment as well. Social interaction features allow event attendees to communicate with one another.
Yan also announced a partnership with and will provide services to conference portal Conference Bay.
Foound
Ever gotten frustrated when trying to arrange a gathering with friends over a multitude of SMSes? Foound's founder Danny Tan evidently did. His service takes location-based services to the next level with a mobile application that allows users to organize hangouts with their friends. Users can update their location – like Foursquare – but takes it further by allowing them to invite their friends to join them, conveying event details while receiving updates and RSVPs from invitees.
Foound will first be introduced for iPhone/ iPod Touch in June 2010.
MoVend
Mobile payment solutions provider Stream Media launched its mobile payment platform product MoVend. The mobile payment system makes selling of virtual goods and services easy, as well as improving distribution. It will be focusing its efforts in Southeast Asia, where there are thriving gaming markets.
Stream Media, founded by Chua Zi Yong, is incubated at NUS Enterprise. You can read more about MoVend here.
MyCube
MyCube's John Palmer unveiled a social networking site that targets those who believes in maintaining their privacy (social, privacy?). Contradictions aside, one of the interesting features of MyCube revolves around monetizing content publishing, where ads can be served according to the content posted up by users and ad revenue shared. Palmer, during an earlier conversation, revealed that his team of four has around a total age of 170 – possibly why they value privacy more than your typical Gen Y-er.
MyCube is aiming to launch in the third quarter this year.
Pandaform
Started 2008 by graduates from Chinese University of Hong Kong, Pandaform by OurSky is an application form processing tool to create, share, and manage application forms – job application forms, project quotations, business loan applications etc – on the web, with features including payment collection and status tracking. No pandas were harmed for the purposes of the Pandaform pitch.
Scraplr
Indonesia-based Scraplr is a social task management tool with reminders to help users keep track of their tasks. The service sends reminders for a task by email, Facebook notification, tweet, text message and push notifications. There's a user community with a scoring and reward model that helps users to remember their tasks. Open APIs allows integration with mobile and desktop clients.
tangoFX Platform
tangoFX Platform by ABOVE – A Bunch Of Versatile Entrepreneurs – is a rich interactive multimedia platform that provides live and on-demand cinematic experiences for viewers to watch movie content anywhere, anytime. Viewers can connect with others and interact or communicate while watching live or on demand content.
Time Voyager
Singapore-based Time Voyager announced its own patented game engine JX2 that allows game developers to create games, virtual reality simulations and 3D animated content. The company is currently undergoing closed beta development of a massive multiplayer online role-playing game (MMORPG) using JX2.
Zelrealm Interactive
Zelrealm Interactive provides a social game management platform – dashboard – for social gamers and game developers. Zelrealm CEO Elvin Li shares how the dashboard allows social gamers to track their game status and scores across different games, and game developers to track and analyze game metrics. Elvin is also a partner at MoVend's Stream Media.
Prepare, Prepare, Prepare
It was painfully evident during the pitch sessions that some of these startups were clearly unprepared for it. The "Gods of Demo" were also against them – presentation and video files couldn't start, the audio guy was clearly off-the-ball, etc – with fumbles, foul-ups and chokes (one of the startup founders' voice actually broke under the strain) being the order of the day.
This despite the fact that the judging panelists were, at least to my observation, a lot kinder to the startups than I'd expected. On the other hand, a couple of the startup founders were shockingly defensive to the point of being stubborn, refusing to listen to the sound advice dished out by panelists.
It's not as though they didn't know what was coming. The organizers had lined up at least three practice sessions with startup coaches such as Battle Ventures' and Founder Institute Singapore's Jeffrey Paine and JFDI.Asia's Meng Weng Wong. Even if they didn't attend the practice sessions, watching a couple of videos of startups pitching at TechCrunch50 would have helped. Unless, of course, they didn't bother.
Among them, Foound was by far the best pitch in the field. It's not as that their product was the best, but their pitch [40:00 mark] was so well prepared and rehearsed – they even had a comeback slide – that they wow-ed even Plancast investor Dave McClure, who declared after their pitch "Singapore, you have hope." Foound's standing ovation at the end was well-earned.
Aspiring entrepreneurs should take note.