No, VoucherWOW has got nothing to do with discount coupons for the world's biggest massive multiplayer online role-playing game (MMORPG). It is, however, a new startup that is looking to position itself as the website where visitors tap on the power of group-buying for the best deals in Singapore.
Launched in April 2010, VoucherWOW features a daily deal at an incredible price every day on its site, which can range from restaurant discounts, special retail offers – basically anything that Singapore has to offer.  Customers only get the deal of the day if a minimum number of people sign up, which VoucherWOW hopes will encourage them to spread the word about the deal with their friends and family. The last we checked, there was an offer for a special fitness checkup at 90 percent off (it hit the minimum of five customers, so the deal was on).
VoucherWOW aims to be the leading "TimeOut meets group-buying" website in Southeast Asia, and views itself as a marketing platform for small- and medium-sized businesses that want to reach a social, local, and trend-setting crowd. "For our customers, it's a great platform to discover their city at up to 90% off," says co-founder Alice Wong, who adds that the group who founded VoucherWOW are a living example of their target demographic, and are looking for like-minded individuals who like to try new things with their friends.
(Buying) Power To The People
If the customer is king, then collective group-buying must be the new emperor in residence. Starting with Dell Swarm (which was certainly innovative in its time), services that tap on the power of group-buying power is on the rise, as can be seen with the current hype over U.S.-based Groupon. Similarly, in Singapore, other than VoucherWOW, there's also the newly-launched Deal.com.sg as well as the upcoming Voucherous, which will compete in a similar space. There's also a rumored Snatch.com.sg (if so I'd advise them to change their name or Googling them could be… interesting).
Alice agrees that there is currently little to differentiate VoucherWOW from the rest as it stands, but she believes their technology will give them an edge. "There are similar concepts entering the market who often underestimate the technology behind to really scale the business," says Alice. She adds that they've built a platform that will allow them to scale their model rapidly across geographical locations, languages, and multi-million user markets – she's even confident that VoucherWOW's platform is more powerful than that deployed by leading competitors in other parts of the world.
"We believe that we will manage to quickly differentiate ourselves by new location-based technologies when we scale in the region and the type of offers we feature for our customers." She refuses to disclose what LBS technologies they are looking at. Personally, it'll be interesting to see VoucherWOW tie up with a mobile location-based marketing service like Chlkboard (which I checked out earlier).
Alice says VoucherWOW is funded by the people behind 42 Ventures, a Singapore-based incubator and early-stage venture capital firm, although she declines to reveal the exact amount or the company's valuation. She adds that VoucherWOW's revenue model is simple – once an offer closes, they collect the money from their customers upfront and cut the business a check. "We make money by keeping a percentage of each voucher sold – so there's no risk for the business or any upfront costs."
An Entrepreneur Is A Problem-Solver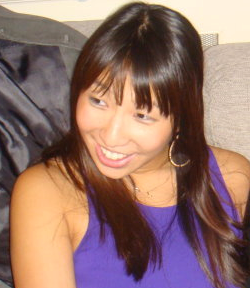 "I can't speak for everyone, but entrepreneurship is a lifestyle and once you make a lifestyle decision that is right you feel it immediately, whether it is moving to a new city or country or going full-time as an entrepreneur," Alice shares. She says two related characteristics are required for the entrepreneur: being able to deal well with uncertainty and unstructured agile environments, and being a problem solver.
"As companies grow and become more structured, these skills become less and less essential… but at the beginning they are key", she adds.