Collaboration knows no bounds. Danny Halarewich (pictured) and Aleksey Bobkov may be separated by hundreds of miles, but that didn't stop the two from joining forces to found LemonStand.
LemonStand co-founders Aleksey Bobkov and Danny Halarewich are located on the opposite sides of the Pacific Ocean – Halarewich is based in Vancouver, Canada, while Bobkov hails from Sakhalin Island in Russia (although he's working on relocating to Canada). Despite the distance between them, they are working together remotely to build an e-commerce product – essentially a self-hosted PHP shopping cart application – that is easy-to-use and flexible enough for web developers around the world to use to create and run custom e-commerce websites.
"You can literally extend LemonStand to accomplish anything you want," says Halarewich. "You can integrate any design you want. You can make LemonStand spit out any HTML/CSS that you want. You can create pages very easily and have non-technical people manage the content."
Halarewich adds that they try to make the LemonStand platform "client friendly" as well, such that anyone can managing a product catalog, sales, orders, and customers, and viewing reports. "The platform and the included API really have no limits."
Making Lemonade from Lemons?
Halarewich and Bobkov are both experienced programmers with expertise in web application development, e-commerce and web design. Bobkov has built many web applications in the course of his career, having worked at various software development companies as well as provided development consulting services independently. Halarewich, the founder of web development shop Limewheel Creative, has extensive experience designing brands, websites and user-interfaces.
Before working on LemonStand, Halarewich and Bobkov originally worked on developing a content management system (CMS) together. However, the lack of time to work on the product resulted in continued delays and postponement. About a year after putting the CMS on hold, Bobkov again approached Halarewich with an idea to build a shopping cart. "Coincidentally I had been working on some e-commerce projects for our clients and got my hands dirty with several e-commerce platforms," Halarewich remembers. "I became increasingly frustrated working with these e-commerce platforms, especially when it came to implementing custom templates, managing content in a simple way, dealing with bugs and a lack of support from the authors."
Bobkov and Halarewich channeled their frustrations with the existing limitations of e-commerce tools into trying to do it better. The result – LemonStand.
Tapping Into The Community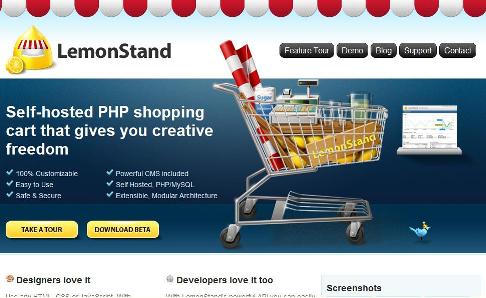 The application is currently in beta, but the feedback from its over 500 beta testers have so far been positive. In fact, some of these users have already begun to use LemonStand on their websites, as well as pitching the application to clients. "Many people have communicated to us that they are basically waiting for us to release version 1.0 so that they can buy some licenses," says Halarewich.
"We allow people to use it for live websites, with the understanding that once version 1.0 goes live they'll be obligated to purchase a license." LemonStand will be opening up for pre-order – people can buy a license now and get a discount. Once version 1.0 is released, those with licenses will automatically be able to upgrade to a commercial version and receive updates.
Indeed, the passionate community that they engage with are pitching in, helping to write tutorials. "Web developers & designers are a tight-knit group. They like to share info and resources," explains Halarewich. To encourage that,  LemonStand offers discounted licenses to anyone who writes tutorials or produces screencasts on the application.
Halarewich and Bobkov believes that the key to its success lies in making LemonStand into a platform, and have plans for a applications marketplace – an App Store for e-commerce applications, if you will – for it. "Developers will be able to buy, sell and share their contributions to LemonStand, whether it's a theme, module or support for a payment gateway." Put it simply: why settle for selling lemonade when you can franchise out a lemonade stand business?
Views on Entrepreneurship
Halarewich and Bobkov love being entrepreneurs. "While it's a day-to-day challenge, we wouldn't want it any other way." says Halarewich. "It allows us the freedom to originate ideas and execute on them." The entrepreneur mindset is typically one that generates many ideas and solutions to problems, Halarewich says, but the key is to choose one and execute on it. "Stop thinking about it and do it. Don't wait until the opportune time comes. Don't waste time trying to be perfect. Be passionate, solve a problem, do your best and get things done."
Halarewich and Bobkov both encourage young people to give the path of entrepreneurship a try, but advise them to enter into it without some sort of passion. "You got to believe in what you're doing and cultivate confidence," Halarewich says. "Don't give up on your dream. Keep your desired result in mind at all times. It will help you get through the tough days."
He adds that whether you end up building a successful business, or realize it isn't for you, you will have evolved. "The lessons you learn and character building situations you encounter will certainly bring huge amounts of value to your life and others."
LemonStand is bootstrapped but are not actively seeking investment capital. You can check out a review on LemonStand here, and can find an audio interview with Halarewich here.