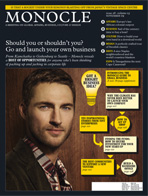 I'm a huge fan of business and current affairs magazine Monocle, and its latest issue is a must-have for anybody who's even remotely thinking about starting their own business.
The latest issue of Monocle is all about entrepreneurship and starting a business – it even comes with a supplement called the "The Monocle Small Business Guide 2009/10" that contains many great interviews with small business owners all over the world, sharing their passions and stories.
If you're thinking of being an entrepreneur, get a copy today.