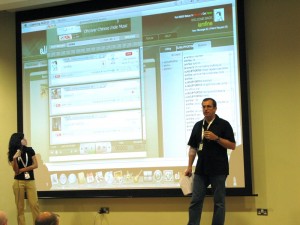 How it has grown.
UnConference Singapore, organized by e27, is literally growing from strength to strength. Last year's UnConference featured just 17 startups, but Saturday's event saw over 31 startups from 10 countries participating in what must be Singapore's biggest and most highly-anticipated annual event for the local tech and web startup community.
Not only has the event grown in size – over 400 delegates compared to almost 300 in 2008 – but the quality of startups that participated and pitched on Saturday has also risen. Bangkok-based online collaborative music platform eJamming and Singapore-based RF location-based technology provider Human Network Labs, for example, were startups that were extremely well-received by a judging panel and the audience.
The event was kicked off by a keynote from Scott Rafer, CEO of Lookery, and followed by a panel discussion on "Innovation in Asia: Where is it heading?" with Rafer, co-founder of OpenWeb Asia Gang Lu, co-founder and CEO of Buzzcity Lai Kok Fung and Wong Hoong Ann, founder of HungryGoWhere.com. Despite it going off in a tangent due to some of the questions posed by a generally excellent moderator in Benjamin Joffe of +8*, the session went well and provided some insight into some the panelists' experiences in the web, tech and mobile spaces.
The biggest letdown of the entire UnConference, in my opinion, took place during the session after the panel discussion, presented by the Media Development Authority of Singapore.
First, it didn't help that many in the audience had seen that chest-beating presentation – the role and supposed successes of the agency's Interactive Digital Media (IDM) Research & Development (R&D) Programme Office's in helping to fund and guide Singapore-based startups – many times before in previous events. So perhaps it wasn't surprising that members of the audience started leaving just five minutes into the session (it is an UnConference after all, and people have the right to). The speaker, a relatively junior MDA executive, knew she was losing the crowd, and began to fumble.
If she had managed to get any attention from the crowd, it was of the wrong kind.
[ Picture removed by request.]
Yes, the crowd was distracted by her legs that were just covered by a very short skirt. Not just pulses and heartbeats; even Twitter was aflutter. What would you have expected from a mainly-male geek audience in the consumer tech and web space? The lady seated next to me remarked that the speaker would have done better if she had "dressed a little more appropriately". I trust my fellow delegate's judgment – she was there at the UnConference to seek funding for her online fashion content publishing startup.
Long legs aside, the key gripe would have been the fact that MDA seemed wholly incapable of defending its own programmes. It was obvious that she was clearly outmatched and overwhelmed by a knowledgeable audience. At one point, co-founder and CEO of Buzzcity Lai Kok Fung stood up and challenged her about their role as a facilitator in connecting Singapore startups to  larger, established companies such as Singtel as she claimed in her presentation. He argued, some will say rightly, that if a startup had a great product, Singtel would listen whether or not MDA was in the picture to facilitate any exchange. After some half-hearted defence by the MDA representative, Lai finally relented and remarked "I apologize for doing this to you, I should be taking this up with (MDA deputy CEO) Michael Yap instead". I couldn't but help notice some members of another government agency present (seated in the same row as me) rolling their eyeballs.
UnConference 2009 is a once-a-year event when many of the best startups from Singapore and the region gather to share knowledge. It is also attended by those who finance startups – business angels, private equity fund managers, venture capitalists and the like – that the startup scene is eager to pursue, as well as educators, regulators, technology and web professionals and yes, aspiring entrepreneurs. In what must be considered a poorly-delivered presentation by a junior executive who isn't empowered to answer and defend the agency's role in the scheme of things, could MDA have erred by badly underestimating the nature and importance of UnConference, and the quality of its delegates, in the Singapore startup scene?
Another question that begs asking: Is the agency fast enough to adapt and keep pace with the extremely fluid startup scene in Singapore? It has been almost three years since the IDM R&D Programme Office was set up in October 2006. Despite the many tweaks to its programmes over the past three years, some industry observers have privately commented that it may be losing its plot. Take for example, iJAM is a joke – I can't put it any better than this poster.
There is already talk that some local startups, attracted by better terms and cheaper costs, are strongly considering moving their operations to Malaysia. MDA's IDM R&D Programme Office needs to seriously relook into its programmes, otherwise we may soon start to see a deluge of startups (and we don't have many of these to start with in the first place) leaving our shores. Bear no misconceptions about this – members of Malaysia's MDEC were present at the UnConference actively courting the startups.
UnConference 2009 presented a perfect opportunity for MDA IDM R&D Programme Office to stand up and be a thought leader in the local startup community. It didn't. All the more's the pity.