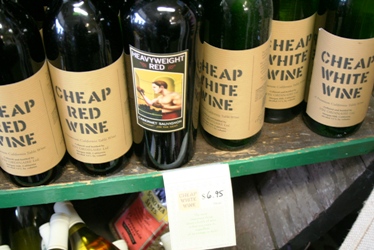 Spotted in a deli cum general goods store in Sausalito, San Francisco: wine branded and labelled "Cheap White Wine" and "Cheap Red Wine".
In a market known for snootiness and snobbery, a wine producer has decided to take a totally surprising tack to differentiate himself from his competitors.  Sure it's risky. Hell, it can be damaging to the company's brand.
But it's definitely innovative. And it may just carve a totally different market segment for itself.
Would you dare do something as risky as this?