5 Lessons To Learn From Germany's Thriving Startup Scene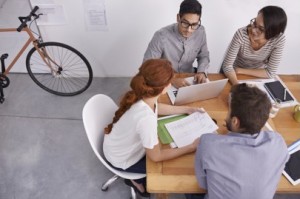 Germany is obviously a great place to build a business. This is evident in the fact that many of the companies that were birthed in Germany have grown to be world leaders.
But it's not just old companies that are thriving in Germany. The country has proven to be a great breeding ground for start-ups. And unlike America that's currently on the move to get rid of imported talent from certain countries, Germany embraces the concept of importing talent. But asides from this, what else is there about the German start-up scene that's attracting so much talent from around the world and so many innovators?
It likely as something to do with the features listed below which other countries seeking to boost their economy can learn from:
1. Getting a visa is easy.
The process of getting a visa into Germany isn't only relatively easy, but also way cheaper than what you'll find if attempting to enter countries such as the UK and the US. This means that innovators from around the world looking for an enabling environment to build their ideas are attracted to Germany because they know they are welcome and their dreams can come true.
2. Accepting new technology.
Being one of Europe's powerhouses when it comes to manufacturing, Germany has realised that the future rests with innovation. This makes the country a fertile ground for both young and old to birth new ideas and start-ups that can create the new technology that will take Germany's industries into the future. The start-ups look forward to building their ideas in Germany because they know there is a ready market for it once their innovation is perfected. By providing an enabling business environment, Germany has given people the incentive to be inventive.
3. A refreshing work culture.
While the German labour force works both efficiently and effectively, the work culture of the country provides for a work-life balance that allows workers to work hard and yet still have ample time for themselves. Long paid vacations, paternity and maternity leave and clearly defined work hours are the cornerstones of most workplaces. This serves as an attraction to a new generation of workers who want to give their best in the workplace but still have enough flexibility to pursue personal goals.
Germany makes it possible for start-ups to aim for success and work hard for it but without burning themselves out. When we look at the likes of Germany, and other big economies in Western Europe, the last 50 years have been vital to transforming their inner city economies into more retail focussed environments. This is something to bear in mind when thinking about how you might engage with this audience.
4. An international attitude.
Something countries around the world can learn from Germany is how it inspires and makes it possible for its start-ups to aim for a global standard and thus innovate solutions that can serve beyond Germany's borders. This gives start-ups an opportunity to be successful both locally and internationally.
The coworking attitude.
The coworking attitude fostered by the German work environment makes it possible for various start-ups to merge ideas and contribute to one another's success, thus making it possible for them to accomplish more than they might have individually. The support system of coworking makes start-ups less likely to fail and make matters such as mergers much easier.
Through the years, Germany and the UK have evolved to be world leaders leading the way in Europe. But there's still a lot to learn from Germany's attitude of looking into the future.

Young Upstarts is a business and technology blog that champions new ideas, innovation and entrepreneurship. It focuses on highlighting young people and small businesses, celebrating their vision and role in changing the world with their ideas, products and services.