Does Your Business Have A Fleet Of Vehicles?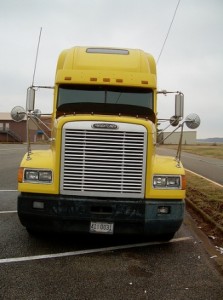 If your business owns a fleet of vehicles that are used for the service or product you offer to your customers, there are several reasons why it makes sense for you to monitor your vehicles. Whether you are delivering something as simple as flowers a few blocks away or moving freight across the country, you need to know exactly where your vehicles are.
The value of a tracking system.
To keep things simple, we will focus just on three main reasons why a fleet tracking system makes perfect sense for your company. If you are the owner of the business, then you are well aware of how much of an investment your vehicles are.
If you are going to go out of your way to track the other financial investments in your company such as marketing and advertising costs, employee performance, and customer satisfaction, doesn't it make sense to keep track of your vehicle investment as well?
By tracking your vehicles, you provide yourself with an opportunity to better serve your customers. This in turn allows you to know how far away your drivers are from their destination and serving their customers. By focussing on these numbers on a regular basis, you will be able to make the necessary adjustments in order to become better at what you do.
Adding security to your business.
Not only does tracking your vehicles create an opportunity to better serve your customers, you will also be giving yourself an extra peace of mind. In the event that one of your vehicles go missing, a tracking system will allow you to find it within hours, if not sooner.
It should also be noted that by installing a tracking system, you may be able to save the business additional money when it comes to your monthly auto insurance premiums. Because of this, the protection will be able to pay for itself over a period of time.
Caring for your investment.
Let's face it, business owners make a bad decision from time to time. Occasionally, that can be related to an individual who is hired as a company representative. A tracking system not only adds security to your fleet, it can also keep you up to date when it comes to what is taking place while the vehicle is in operation.
This provides even an extra value by making sure you are investing your money wisely when it comes to the employees you hire to work for you. Sometimes the simple fact that the vehicle is being monitored is enough to keep the drivers on their best behavior while on the clock.
While there are several other benefits that come with adding a tracking system to your company fleet, these are just the three that are the most valuable. There is plenty of other information available when it comes to how these systems can actually pay for themselves as opposed to the little cost that goes into them.

Young Upstarts is a business and technology blog that champions new ideas, innovation and entrepreneurship. It focuses on highlighting young people and small businesses, celebrating their vision and role in changing the world with their ideas, products and services.