5 Ways To Ensure You're Hiring The Right Sales Rep
by Reuben Yonatan, founder and CEO of GetVoIP and GetCRM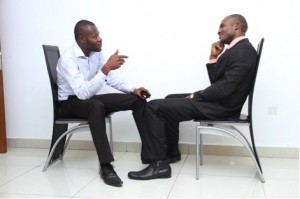 Sales representatives literally represent your company and its values, so you never want to hire anyone – especially those who are customer-facing – who would take either lightly. However, when it comes to hiring for the right sales rep – or any other position, for that matter – how can you be really sure that you've found the best person? Of course, most of the time you're only exposed to candidates' best selves during interviews: how do you know how poorly they'll react under pressure? How do you know they won't burnout and leave the company after only a couple of months?
The last thing you want to do is invest valuable time onboarding a sales rep only to find out later that they just can't cut it. Here are just a few ways you can entirely avoid that issue:
1. Check their history.
As the saying goes: "Those who fail to learn from history are doomed to repeat it." Although sales reps were probably the farthest thing from Churchill's mind when he said this, it can still be applied to the situation. Take a careful look at their resume and previous work history. Were they only at their last position for a few months? If they are a recent graduate, can they offer explanations for poor grades? None of these are be-all, end-all factors for dismissing candidates – in fact, objectively analyzing a candidate in-person is probably more telling than any resume. Regardless, it's still important to keep an eye out for resume red flags.
Furthermore, take a look at candidates' good working history. Discovering and verifying your candidates' prior salary and the length of their tenure will help you gage their potential performance as your employee. One can deduce that candidates would be apt for the position if they: have stellar recommendations, held their position for an extended amount of time, and had a salary that was equal or greater to other comparable positions."
2. Open your eyes to potential.
In the same vein as above, although experience is important, you can't be close-minded. Top sales reps aren't always defined by their past successes, but their potential for future ones. Although past performance is a key factor to consider, motivation and zeal are also equally important. Talented newbies – especially those who are presented with challenges – with the passion and drive to succeed have the potential to outdo their more experienced colleagues.
Candidates who recognize an opportunity and sell themselves well should be easy decisions. However, keep in mind that candidates are interviewing you as much as you are them. Compensation should be commensurate with experience, but if you're competing for great talent, you may want to consider making yourself harder to resist.
3. Use your six degrees of separation.
Greatness recognizes greatness and this is especially true in the world of sales, where networking correlates with success. Thus, it would be wise to leverage your current salespersons' network instead of relying on job boards if you want a better chance at discovering quality salespeople. Of course, implementing some type of referral program may help to get the ball rolling. Further, it will give your current employees better incentive to bring forth first-rate talent.
4. Put them in the hot seat.
Salespeople need to know how to think on their feet and, of course, know how to persuade others. What better way to gauge their abilities than to give them an in-house aptitude test? Obviously you can't expect your candidates to give you perfectly formulated answers — but it's a great way to test their communication skills and how they react under pressure. Ask candidates to pitch your company. This will not only show you how well they prepared for their interview, but it will also show you how well they parse information they're not entirely familiar with.
Bring in multiple interviewers.
As with most anything, it's always good to get a second (or even third) opinion. During panel interviews, it helps to take turns asking questions and noting a candidate's responses. Also, discussion amongst multiple interviewers can help reaffirm your opinion on standout candidates. On the other hand, it can also bring to your attention quirks you wouldn't have noticed if it weren't for your colleague being in the room with you. A good salesperson should have the ability to accommodate different personalities. Thus, chances are that if your candidate leaves an impression on multiple interviewers, they'd make a great hire
The truth of the matter is that you won't always get it right the first time — you may not even get it right the second, third, or fourth times. There will be disappointments during your hiring process, but that just comes with the territory. Just remember to be as objective as possible or even have a designated recruiter. This is because you'll surely be tempted to jump for candidates who look fantastic on paper. However, it's important to remember the detrimental costs of a turnover. You want to focus on all of the aspects that make up a good salesperson. Your next salesperson could be a tenacious greenhorn; they could be an older contact in one of your employee's networks; heck, they could even be someone who's sold you something personally — keep your mind open!
Reuben Yonatan is the founder and CEO of GetVoIP and GetCRM — trusted VoIP and CRM comparison resource that helps companies understand and choose a business communication solution for their specific needs. With a 10-year track record in building, growing and strategically shaping operational functionality in all his ventures, Reuben assists SMBs align business strategy with culture and improve overall corporate infrastructure. Follow Reuben on Twitter @ReubenYonatan.

This is an article contributed to Young Upstarts and published or republished here with permission. All rights of this work belong to the authors named in the article above.