Secure Your Google Drive With Armor Encryption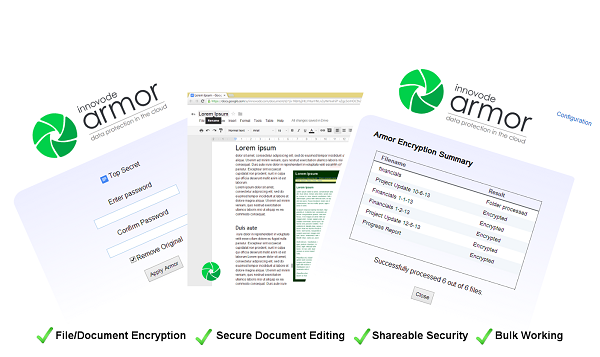 If you're a business owner who's paranoid about using cloud storage services because of security concerns, here's a consideration for you. Bristol, UK-based 
Innovode Ltd
 has released
Armor Encryption for Google Drive – Enterprise Edition
as its first-ever product for the 
Google Apps Marketplace
targeted at enterprises. With this product, users are able to securely store, edit, share and collaborate on documents with the full power of Google Docs and Apps, directly through Google Drive without the fear of using cloud services due to security or regulatory concerns. "Our enterprise edition brings back the secure coherent productivity businesses perhaps enjoyed while working on-premise," explains Howard Snart, executive director and founder of Innovode. "For Google Drive users Armor satisfies current regulations, enables responsible practice and safeguards intellectual property from access violation." This enterprise version comes on the heels of the success of its
Armor Personal Edition
. It features military grade AES-256 encryption and password protection, without the need for a client or uploading and downloading of files; users simply select and open relevant files through the app. Its security features complies with mandatory regulations such as HIPAA and SOX, for businesses that need to ensure such conformity.
Armor Encryption for Google Drive – Enterprise Edition
 is free to try for up to two weeks with a five-user limit; subscription costs $50/user/year.
Daniel Goh is the founder and chief editor of Young | Upstarts, as well as an F&B entrepreneur. Daniel has a background in public relations, and is interested in issues in entrepreneurship, small business, marketing, public relations and the online space. He can be reached at daniel [at] youngupstarts [dot] com.