[Asia][Event] Echelon 2013 Agenda, Speaker Lineup And Pitching Startups Revealed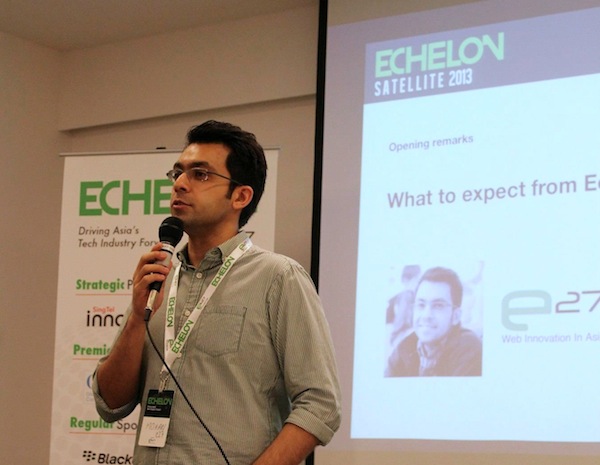 Echelon
put out a call
looking for more
of Asia's most promising startups earlier this year. Last week its organizers, tech media and events platform
e27
, finally announced its full speaker lineup, agenda and the participating startups pitching for the title of Echelon 2013's Most Promising Startup. Held on 4 - 5 June 2013 at Singapore Expo MAX Atria, the event will see the likes of top investor Dave McClure, the founding partner at 500 Startups, as well as Sahil Lavingia, founder at
Gumroad
, speaking at the event."We've been organizing 
Echelon
for the past 4 years, and this is our best yet," says Mohan Belani, CEO and co-founder at e27. "The caliber of the speakers and panelists we've invited, and the quality of the startups that are exhibiting and pitching reveal a huge groundswell of interest, excitement and opportunity for tech businesses in Southeast Asia." "We've always attracted the best startups to participate at
Echelon
, and some have gone on to raise funds and build successful businesses. It is our vision at e27 and in organizing Echelon 2013, that this region is given the platform it deserves to find global success in Asia's emerging knowledge–based economy," he added.
Conference
The conference will feature over 50 speakers and judges flying in from around the world, with keynotes and panel discussions at Echelon 2013 aiming toinspire both aspiring and experienced entrepreneurs as well as seasoned investors. Attendees can expect to gain valuable insights from these Internet stars to drive business growth and build great companies, products and services. You can find the
full agenda here
.
Unearthing Asia's Next Tech Star
Another highlight of Echelon 2013 will be the exhibition of 50 handpicked startups from around the region and the ever-popular Startup Pitches by 10 promising startups for the title of Echelon 2013's Most Promising Startup. The 10 pitching startups are:
GridMarkets (Malaysia)
MathSpace (Australia)
MyLegalWhiz (Philippines)
NoonSwoon (Thailand)
POP (Taiwan)
Stamp (Thailand)
TanyaDok (Indonesia)
TradeHero (Singapore)
TopAdmit (Taiwan)
WayGo (Taiwan)
You can find out more about the
10 pitching startups here
. Aside from these startups pitching at the competition,
other newly founded startups
will be exhibiting at the conference venue as well. If you're interested to check out the latest Internet stars from this region,
sign up for Echelon today
. Use the promo code
YOUNGUPSTARTS
to get yourself a special discount!
Young Upstarts is a media partner of Echelon 2013.
Daniel Goh is the founder and chief editor of Young | Upstarts, as well as an F&B entrepreneur. Daniel has a background in public relations, and is interested in issues in entrepreneurship, small business, marketing, public relations and the online space. He can be reached at daniel [at] youngupstarts [dot] com.