Startup Threads Delivers Exclusive Startup-Related Schwag To Your Doorstep Every Month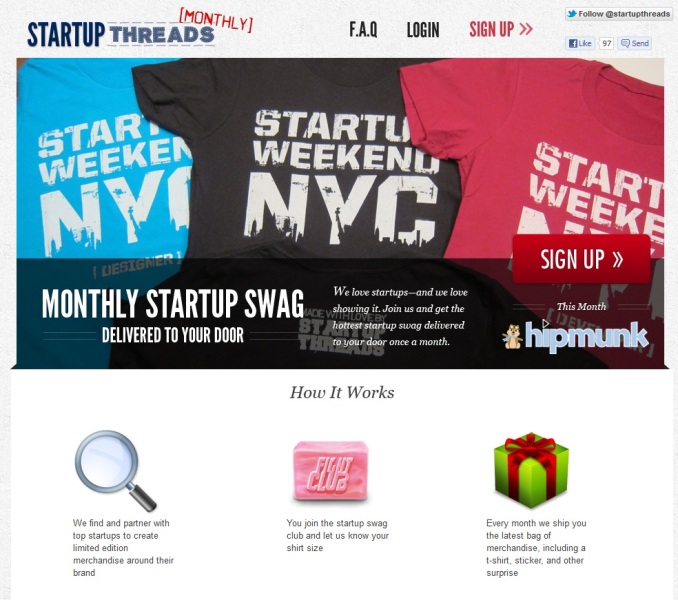 Remember
Startup Schwag
, the online subscription service that sent you random technology startup related schwag - such as a T-shirt and die-cut stickers - every month? I was a subscriber, until
it died back in 2010
after 32 months of operation. I was disconsolate. Until now. A similar service has just been announced -
Startup Threads Monthly
will deliver a limited edition "box of swag" - exclusive t-shirts, stickers, and other surprise merchandise from a different startup - delivered right to subscribers' doorsteps, every month. Apparently they even got
Startup Schwag
's blessing to do this, using its format and even its printer!
"We wanted to create a cool way for startup fans to get new merchandise from their favorite brands and companies consistently, " said Frank Denbow, Founder & CEO of Startup Threads. "Conversely for startups, its a great way to get merchandise in the hands of the most passionate early adopter types around the world."
The designs will be printed on high-quality shirts from American Apparel and Next Level. For its first month, Startup Threads will be featuring travel search and planning site Hipmunk. Other brands on board include Reddit, Boxee and Twilio.
I've already signed up, as a way to support startups. Have you?
Daniel Goh is the founder and chief editor of Young | Upstarts, as well as an F&B entrepreneur. Daniel has a background in public relations, and is interested in issues in entrepreneurship, small business, marketing, public relations and the online space. He can be reached at daniel [at] youngupstarts [dot] com.