[Singapore][Conference] 2nd Annual Strategic Online PR & Media Relations Forum 2011
Posted by Daniel Goh on 8/15/11 • Categorized as Events & Happenings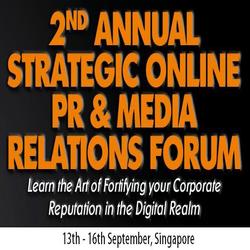 [Update 10.40am Au 18: Please note that this event is now cancelled.]
The
2nd Annual Strategic Online PR & Media Relations Forum 2011
, organized by
T.U.N. International
, is scheduled to take place in Singapore September 13-16, 2011, after its successful debut the previous year. For this year, the conference is themed around "Learning the Art of Fortifying your Corporate Reputation in the Digital Realm", and will focus on how brands and corporations can participate in genuine and transparent engagement through online platforms, especially in a time when sharp - and sometimes unforgiving - online audiences are more than willing to tear corporate reputations to shreds for any discrepancies. Key topics covered at the conference include corporate reputation management, crisis and PR recovery, corporate social responsibility and effective communications mix, amongst others. While many of the speakers are familiar faces in the Singapore online and PR speaking circuit, there are some interesting ones that stand out: I'm personally interested in hearing from Sakorn Thavisin of
CentralWorld
who will be sharing about the crisis they faced in mid-2010 when the world's third largest shopping mall, in Bangkok, was burnt down by political demonstrators. Another session worth noting, especially if you're from the F&B industry, is by Margaret Marshall of
Menu Group
, who'd share how the company's flagship microbrewery restaurant
Brewerkz
branded itself effectively through social media. To find out more, visit the
2nd Annual Strategic Online PR & Media Relations Forum 2011 page
. Alternatively, you can contact Jasmine at
jasmine@tun.sg
or call +65 6376 3176 for more information.
Young Upstarts is a 2nd Annual Strategic Online PR & Media Relations Forum 2011 media partner.
Daniel Goh is the founder and chief editor of Young | Upstarts, as well as an F&B entrepreneur. Daniel has a background in public relations, and is interested in issues in entrepreneurship, small business, marketing, public relations and the online space. He can be reached at daniel [at] youngupstarts [dot] com.
Tagged as: conference, digital media, managing corporate reputation, public relations, Singapore, social media, social media marketing, TUN International