Kauffman Founders School Compiles Entrepreneurship Knowledge Into Online Video Curriculum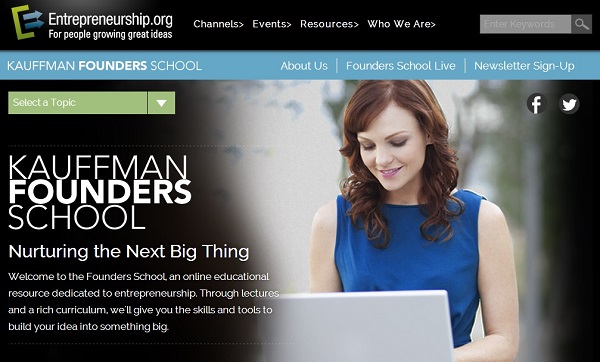 Knowledge and content used to be locked in physical depositories - and within great minds - not easily accessible by everyone, but the web is changing that paradigm. The Internet, and particularly online video, is helping change the face of education, with sites such as 
Khan Academy
 providing democratic access to the world a tremendous amount of educational resources that can be accessed by anyone with a decent broadband service. The Kauffman Foundation probably thinks that it's a great way to share entrepreneurship resources too, which is why they have the
Kauffman Founders School
, an online video education program targeted at entrepreneurs to help them learn the critical lessons anytime, anywhere that will help them and their business succeed. Its premise is simple, an online space where subject matter experts present lectures that are embedded into modules around a robust curriculum designed to give founders a rich learning experience, engaging them in lessons that run the gamut of how to run a business. The curriculum includes resources such as presentations from leading experts, suggestions for extra readings that help enhance those lessons, questions for founders and their team to answer, as well as insights from other founders on how they've tackled their own challenges. The latest in the 
Kauffman Founders School
 series involves Silicon Valley serial entrepreneur and educator 
Steve Blank
, father of the "Lean Startup" movement and author of "
The Startup Owner's Manual: The Step-by-Step Guide for Building a Great Company
" and "
The Four Steps to the Epiphany
", who describes how early-stage startups can succeed by emphasizing a business model over a business plan. Blank's "
The Lean Approach
" series encourages entrepreneurs to undertake a process of customer discovery, development and iteration to achieve the right product and/or market fit, and goes on to advise founders to systematically test their assumptions and look for insights that can shape their business through this process. It's Blank's second Founders School series; his first was "
Startups
," explains what we know about startups, how they are different from big companies and what implications this has for the role of founders and the founding team. If you're a founder who's floundering about in your startup and could really do with a structured way of learning how to run your business, you may find 
Kauffman Founders School
 infinitely useful.
Daniel Goh is the founder and chief editor of Young | Upstarts, as well as an F&B entrepreneur. Daniel has a background in public relations, and is interested in issues in entrepreneurship, small business, marketing, public relations and the online space. He can be reached at daniel [at] youngupstarts [dot] com.