Learn To Code With One Month Rails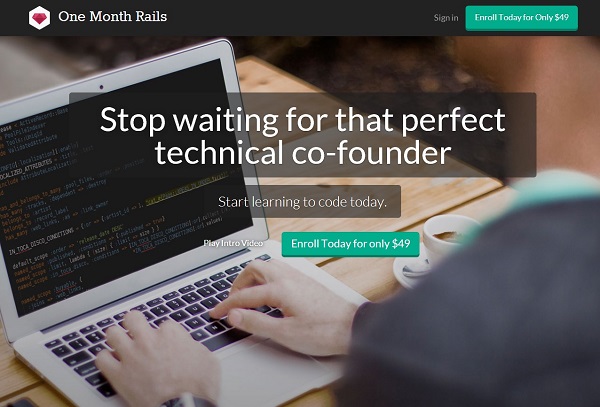 You have a great idea for an app or a startup but you have have absolutely no programming skills. You can either search for a technical co-founder who shares the same vision - which is a lot harder than it sounds - or look at outsourcing to a competent and affordable agency that can help you put something together (but without the soul). Or you may consider picking up some coding skills yourself and try to make it happen. That's where 
One Month Rails
(
www.onemonthrails.com
) comes in - the online training platform offers  aspiring entrepreneurs, students and professionals seeking to expand their career skills by offering a series of online video lessons, hands-on exercises, code samples and additional resources to learn web development with Ruby on Rails. Part of  
Y Combinator
's Summer 2013 batch of startups, The online resource for web development to date has taught more than 9,000 people Ruby on Rails, one of the most widely-used web programming technologies today. "Anyone and everyone can learn to be a web developer and take advantage of the opportunities the Internet presents," says Mattan Griffel, founder and CEO of One Month Rails. "I had an idea for a product, but could never find that magical person who would build it for me, so I started learning Ruby on Rails on my own. While fairly easy to actually code, the hard part was using the online guides I found. One Month Rails is me teaching people to code the way I wish I could have learned myself." Many students who have undergone the program and picked up web development include Sandi Lin, CEO and co-founder of Seattle-based Everpath (
www.everpath.org
), Bradley Kipp, co-founder of Virginia-based UpHex (
http://uphex.com
), and Mike Wyatt II, a GM factory worker-turned-developer based in Missouri. "The things I learned from One Month Rails let me hit the ground running while discovering new solutions," says Wyatt, now a freelance web developer. "I'm now making double my salary thanks to the knowledge gained."
One Month Rails
 has secured seed investment from Andreessen Horowitz, Yuri Milner, General Catalyst and Maverick Capital.
Daniel Goh is the founder and chief editor of Young | Upstarts, as well as an F&B entrepreneur. Daniel has a background in public relations, and is interested in issues in entrepreneurship, small business, marketing, public relations and the online space. He can be reached at daniel [at] youngupstarts [dot] com.