SAP Opens Its Fourth APAC Co-Innovation Lab In Singapore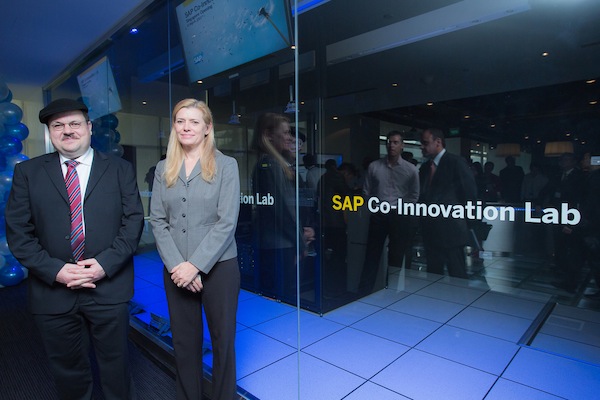 (L) Dr. Axel Saleck, Vice President, Global SAP Co-Innovation Labs Network, and Bronwyn Hastings, Senior Vice President, SAP Ecosystem and Channels, Asia Pacific Japan
Bangalore. Shanghai. Tokyo. And now Singapore. German enterprise software company 
SAP AG
yesterday launched in Singapore its fourth SAP Co-Innovation Lab (COIL) in Asia Pacific, a space offering a hands-on environment for SAP, partners and customers to work together on current and future technologies. It's also the eighth of a global network of similar SAP co-innovation facilities around the world. Located within SAP's Asia headquarters, the Singapore SAP Co-Innovation Lab will tap on current major technology trends such as cloud computing, mobility, big data analytics and in-memory computing. The Lab will be supported by various technology partners such as Cisco, Intel, NetApp and VMware, who will be providing its latest generation of hardware and software products to the facility's computing center. SAP hopes that collaborations at the Lab will lead to prototypes that can help meet today's most pressing business needs and opportunities. "Co-Innovation Labs help our customers to get accelerated value from the latest innovation and technology through our ecosystem," says Bronwyn Hastings, Senior Vice President, SAP Ecosystem & Channels, Asia Pacific Japan. SAP is an open innovator and our commitment to expand partner innovation is evidenced by the establishment of the fourth Co-Innovation Lab in Asia Pacific Japan." "This investment will help to accelerate co-innovation within the SAP ecosystem and create a vibrant network of companies with expertise in SAP solutions throughout the region," she adds. "Singapore has long been a hub for commerce in the Asia Pacific, and as the region heightens its profile on the global stage, it is increasingly viewed as a center for innovation," says Kowshik Sriman, Managing Director of SAP Singapore. "Today, this shift is apparent in the vibrant entrepreneurial scene that has made Singapore a hotbed for start-ups. We anticipate the new lab will evolve into a nexus of activity in the community for those who want to create innovative, next-generation business solutions." One of the local startups the Co-Innovation Lab Singapore has already helped is social game management platform developer
ZelRealm Interactive
-
first unveiled at Echelon 2010
- which developed Sogamo to help game developers optimize and better monetize their online games based on information like player behavior.The startup employed SAP HANA real-time memory platform to help trim the time taken to complete analytics. Another Singapore-based startup,
YFind Technologies
- a
2011 SiTF Award winner
- is collaborating with SAP R&D and SAP Co-Innovation Lab to build a product that enables mobile shopping and checkout in retail stores, featuring indoor positioning, in-store foot traffic analytics, and video content analytics as a way for brick-and-mortar stores to connect with a mall's foot traffic.
Daniel Goh is the founder and chief editor of Young | Upstarts, as well as an F&B entrepreneur. Daniel has a background in public relations, and is interested in issues in entrepreneurship, small business, marketing, public relations and the online space. He can be reached at daniel [at] youngupstarts [dot] com.