Amsterdam's Rockstart Accelerator Sees Good First Year, Announces 2nd Edition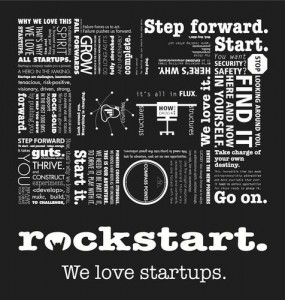 Amsterdam-based startup accelerator
Rockstart
last year launched a
program to find and support ten teams of startup founders in Europe
. It recently announced the results of its incubator program - and the results look promising. Of the ten startups in the inaugural 2012 class, four have raised follow-on funding to date, and one even reached the break-even point and expanded to Silicon Valley. Here are some of the highlights of the Rockstart Accelerator 2012 class: • 
Owlin
, a real-time news and social media analysis service, raised $250K from NoRo Venture Capital; • 
Pastbook
, a service to relive and share your photos both online and in print, raised $325K in seed financing from NoRo Venture Capital, Vidoze BV, and an undisclosed group of angel investors; •
Peerby
, a web and mobile application that enables users to rent and borrow stuff from people in their neighborhood, raised an undisclosed seed round from Sanoma Ventures, and won a $125K second prize in the global Postcode Lottery Green Challenge, part of the Clinton Global Initiative; •    
Postcron
, a simple service for scheduling Facebook and Twitter posts, raised $125K three weeks into the program; •    
Imgzine
, a platform for real-time social magazines, reached the break-even point with 12 employees and currently expanding to Silicon Valley; and •    
Wercker
, continuous SaaS deployment to the cloud, won the 2012 GigaOM Structure:Europe LaunchPad. "The results of programs like 500 Startups, Techstars, and Y-Combinator are well known, but due to the culture here in Europe there's still a lot of unknowns in terms of the track record for follow on funding and results of accelerator programs based in Europe," says Don Ritzen, co-founder and CEO of
Rockstart Accelerator
. "We're proud of the successes of our first year class and believe it's important to provide the results and progress of the startups in the 
Rockstart Accelerator
program to foster a culture of openness and transparency."
Applications
for the second year of the Rockstart Accelerator program are open now through January 20, 2013. The startup accelerator also announced that it will incorporate lean startup methodology as a key aspect in its upcoming program, and will be the first in Europe to do so. During the accelerator, the startups will attend lean startup several presentations and workshops held by expert mentors such as Ash Maurya, author of "
Running Lean
", Ian Collingwood, founder of UXdna, Salim Virani, founder of Leancamp, Tendayi Viki, founder of Valideation, and Patrick Vlaskovits, author of "
The Entrepreneur's Guide to Customer Development
".
Daniel Goh is the founder and chief editor of Young | Upstarts, as well as an F&B entrepreneur. Daniel has a background in public relations, and is interested in issues in entrepreneurship, small business, marketing, public relations and the online space. He can be reached at daniel [at] youngupstarts [dot] com.