[Infographic] Silicon Valley Vs Silicon Alley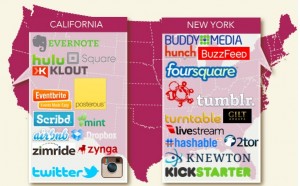 We all know that Silicon Valley as the hotbed of innovation that many countries and cities around the world have tried to replicate (and mostly failed). What some may not realize is that the
startup scenes in other parts of the United States
- New York, Chicago, Austin - has been seeing plenty of excitement in recent years. In particular, New York has been seeing plenty of startups emerge and blossom, and the city is now known (somewhat jokingly) as "Silicon Alley". Much of it has been down to great support from local government - including Mayor Michael Bloomberg - as well as the efforts from organizations such as
New York Entrepreneurship Week
. Here's an interesting interactive infographic from
Online MBA
taking a look at startups from Silicon Valley and Silicon Alley (mouse-over the infographic for more):
This infographic was first posted on Online MBA.
Daniel Goh is the founder and chief editor of Young | Upstarts, as well as an F&B entrepreneur. Daniel has a background in public relations, and is interested in issues in entrepreneurship, small business, marketing, public relations and the online space. He can be reached at daniel [at] youngupstarts [dot] com.