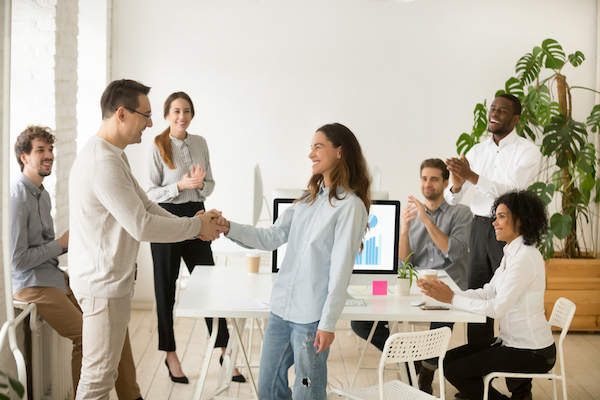 Your employees are the heartbeat of your organization. For a business to succeed, your workforce needs to be highly productive, dynamic, and industrious. So how do you encourage motivation? It's simple: reward your employees. Given the competitive nature of the job market in recent times, rewarding a hardworking employee is pivotal to building a fun-filled and happy work environment. Perhaps having employee reward programs can increase employee productivity. 
How to Reward Productive Employees?
Have you been losing valuable employees in recent times? Perhaps, there's something you're doing wrong. Losing a productive employee is without a doubt the most expensive mistake you'll ever make as a business owner. So how do you retain them?
Check out impressive incentives ideas for any budget that makes your company attractive to potential job seekers while helping you retain your most productive staff members.
1. Organize an Office Party.
Most big companies organize an end-of-the-year party with all staff members in attendance. This is a great way to show that the company acknowledges and values their efforts. Office parties make employees feel appreciated. Also, it gives them more opportunities to get to know each other.
You can also throw an office party periodically. This can be done after successfully implementing a project. Order a customized cake for special occasions like birthdays or anniversaries.
2. Give a Fun Award.
Reward top performing employees with a fun award. You can either select the best employee yourself or create a company-wide survey with a list of nominated employees. This can be done at your monthly or annual company meeting. It's a fantastic way to keep your workforce engaged.
3. Throw an Office Barbecue.
Throwing an office barbecue every once in a while helps employees loosen up and spend time bonding with colleagues. This should be complemented by assorted drink options. It's a cost-effective employee reward that will get your workforce even more motivated.
4. Give Coupons and Gift Cards.
You don't have to splurge to reward your productive employees. There are lots of thoughtful affordable gift ideas—like gift cards to their favorite restaurant, cinema, or local coffee shop. Other amazing options include concert tickets coupons, magazine subscriptions, house cleaning services, museum membership cards, and car wash coupons.
5. Offer External Services.
Who wouldn't fancy a chair massage during a hectic workday? This is a great idea if you'd like to reward a group of employees. A 20-minute massage will go a long way in helping your employees feel rejuvenated and revitalized for the work ahead.
Make your employees feel valuable right there at work. Invite a professional yoga instructor, personal trainer, therapists, or masseuse. Not all employees can afford these services. So, offering such services at the workplace at no extra cost is a great motivating factor.
There are many inexpensive ways to reward your employees. Creativity is key to getting the desired result. Comparing employee rewards identifies that it is crucial to reward your hard working employees. It shows competition in the workforce but more importantly recognizes the hard work put in to establish and maintain a successful business.