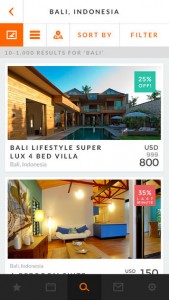 The growth of the online social stay and vacation market has been garnering quite a bit of attention, spearheaded in the United States by San Francisco-headquartered Airbnb but which has pretty much spread across the world. But Singapore-based travelmob is also eyeing a piece of that action, especially in the Asia Pacific – the social stay marketplace, which helps match property owners in the region to travellers seeking quality short-term accommodation, is pushing aggressively into the increasingly-crowded Asian market that not only sees incumbents like Airbnb, but also other players such as Roomorama and PandaBed.
The company recently introduced an iOS app that helps hosts to manage their reservations and listings quickly, as well as assist travelers in booking their accommodations from more than 20,000 properties across Asia Pacific while on the move. The founders also say the company received more than 15% of bookings from iOS devices alone in the past three months, prompting it to push out a mobile app.
"We recognize that more than a third of our users are accessing our site through mobile devices, with more than 60% of them on the iOS platform," shares travelmob CEO and co-founder Turochas Fuad, who was previously managing director of Skype in Asia. "With the travelmob iOS app, we are able to give our users a mobile-optimized travelmob experience to locate, communicate, book and manage properties."
Among other features, the app lets users find and make reservations at properties in more than 100 destinations across the Asia Pacific, create and access itineraries, read and check reviews, as well as instantly communicate with hosts.
"Soaring smartphone ownership in Asia Pacific makes it extremely important for us at travelmob to create the best possible experiences for users on mobile devices," adds Prashant Kirtane, CTO and co-founder of travelmob. "With this app, we have created an extremely immersive and engaging experience for our users on iOS devices. We are also looking to launch our Android and HTML5 experiences by mid next year."
The travelmob iOS app is free to use and is available for download from the Apple App Store.