How Focusing On Only One Customer Can Change Any Business
by Arjun Sen, president and founder of ZenMango and author of "Customer Karma"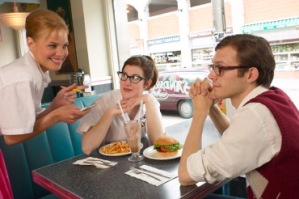 "Do good Karma and good Karma will come to you" was my grandma's advice as I grew up in India. Hidden in that advice was the mantra for building lifetime relationship with customers.
The key word is relationship, as there are similarities between personal and customer connections. In both cases the first impression defines the tone of the connection and a decision is made about the future before the connection is over. If you will never use a coupon to promote your dating profile, why do brands use billions of coupons daily to buy a customer's business?
With this understanding, businesses of all sizes should focus on one customer at a time to create a great first impression and focus on making every part of the experience of a guest matter. That way the guest can decide favorably about doing future business before leaving. This focus on one customer at a time, is very powerful and will make a strong impact on the brand's revenue.
Here is an example from a business where an average customer spends $5 every time and visits twice a week.
Once you do the math, the customer has a $10,000 lifetime potential. That itself changes the way we look at every customer.
The table below shows that a:
A light user visits the shop 12 times a year and spends $60 a year
A medium user visits the shop 52 times a year and spends $260 a year
A heavy user visits the shop 150 times a year and spends $750 a year
If the business focused every week to wow one customer, to move him/her to the next level of loyalty, and continue this action for all 52 weeks, here is how revenues will change:
Moving one user from light to medium, every week for 52 weeks will result in a weekly sales increase of $200.
Moving one user from medium to heavy, every week for 52 weeks will result in a weekly sales increase of $490.
That is powerful. I was blown away when I first realized the power of one customer and how it can make a business very successful. It is so simple yet a game changer.
As you think of applying this in your business, here are FIVE questions for you:
What is the value of your light, medium and heavy users for your business?
How much will your revenue increase by moving a light user to medium or a medium user to heavy, one every week?
What is your action plan to move customers up the loyalty ladder?
If you get good at moving customers up the loyalty ladder, why stop at one customer a week? Why not try it with every customer, every time?
Finally, once this becomes your way of doing business, do you even need to spend any money on marketing or other customer acquisition tools?
The essence of the book "Customer Karma" is to focus on one customer at a time and focuses on the three steps in the journey.
LEARN: What the customer needs by putting yourself in the shoes of the customer.
SEE: The big picture of the lifetime value of the customer.
ACT: From the heart.
Start your journey by simply wowing one customer, and then one more; and your business will never be the same.
Arjun Sen is president and founder of ZenMango, providing resources for businesses and professionals looking to expand their business and grow their brands.  With over 20 years of experience in the corporate world, he inspires audiences by demystifying the concept of the customer relationship. He is author of "Customer Karma".

This is an article contributed to Young Upstarts and published or republished here with permission. All rights of this work belong to the authors named in the article above.